Share what you've been doing!
Send photos of yourselves enjoying any activities that you have been doing or photos of art work or models you have made. Perhaps some suggestions of books you have read or films you have watched? Recommendations of good websites for children?
Email to admin2@st-martinporres.haringey.sch.uk
Please make sure that you have agreed to have your photo on the website (no names will accompany photos but first names only or surnames only will be credited to photos of art work or recommendations for books/films/websites, etc.)
Lena F's Anti Rascim Poster
Watch me solve the Rubik's Cube in 3 minutes!
https://www.dropbox.com/s/mmdulj7pa93uz9z/20200622_104914.mp4?dl=0
My basil is doing well!
We've made a crocodile together.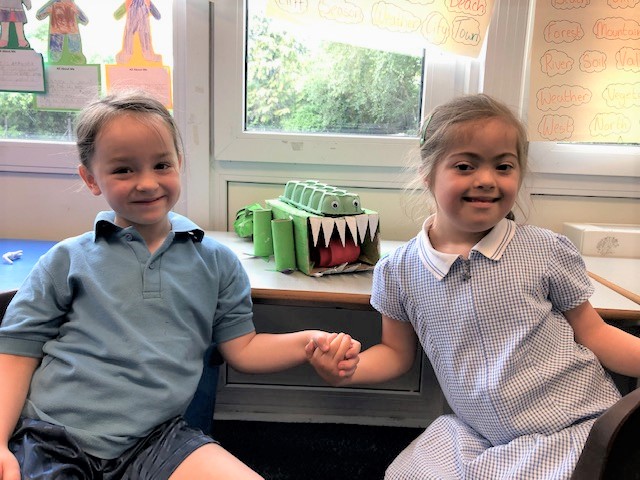 The teachers and staff have made a video - looking forward to seeing you all soon! Warning - teachers dancing!
Year 6 have made a video showing you what school looks like at the moment
I've learnt to cross stitch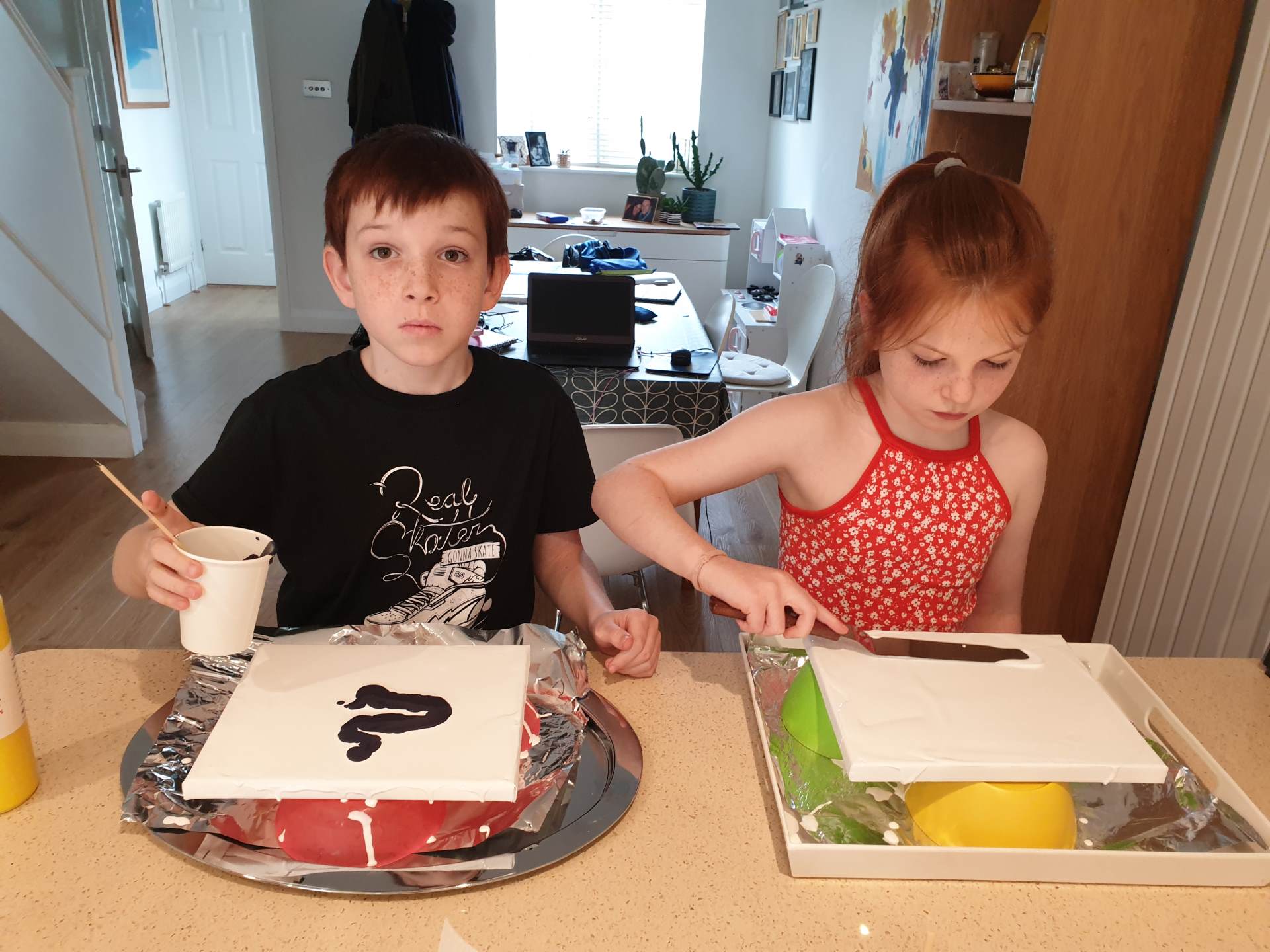 Learning to do fluid art with acryllic paints
Making models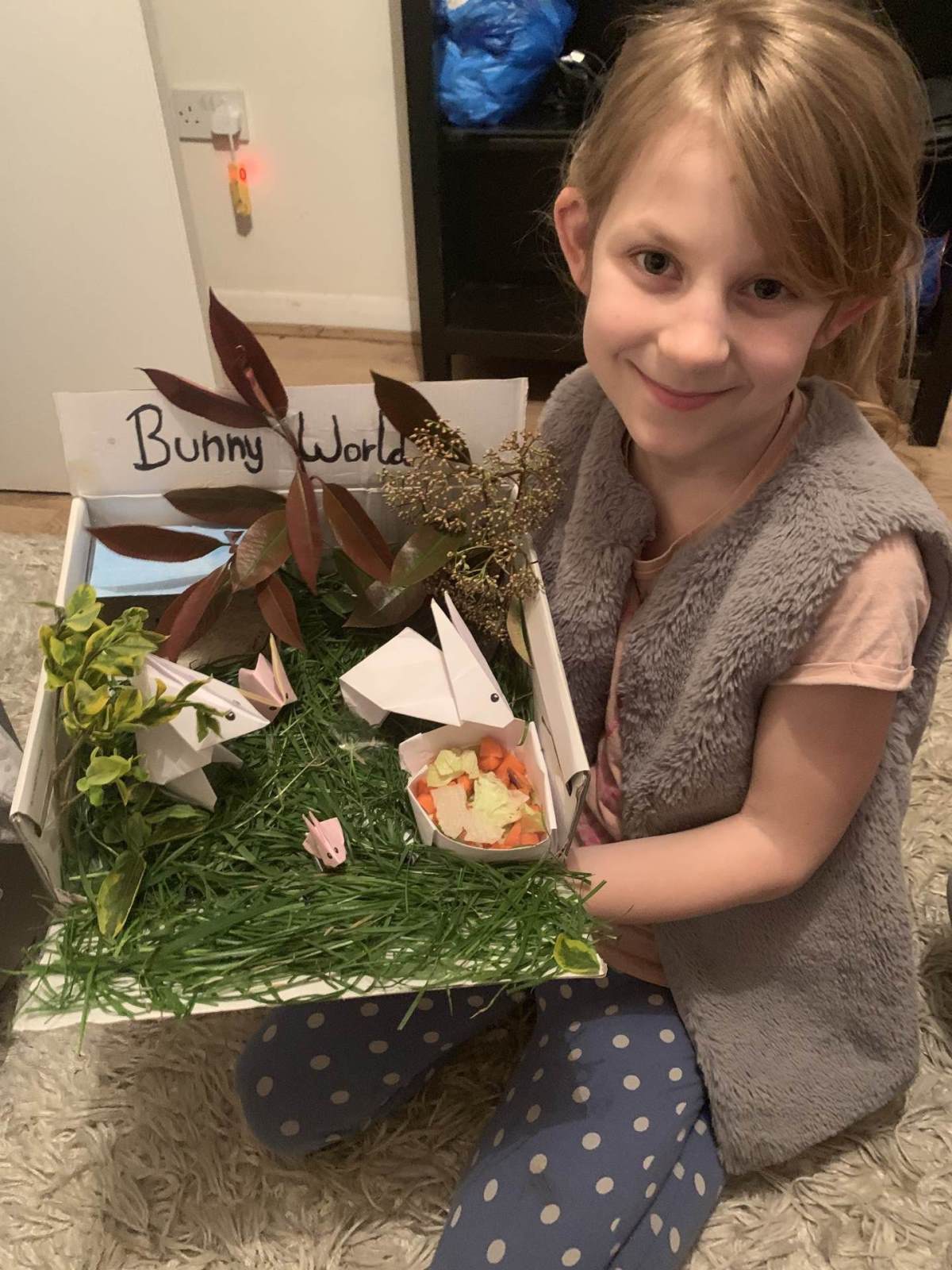 Maja B's work on King John and the Magna Carta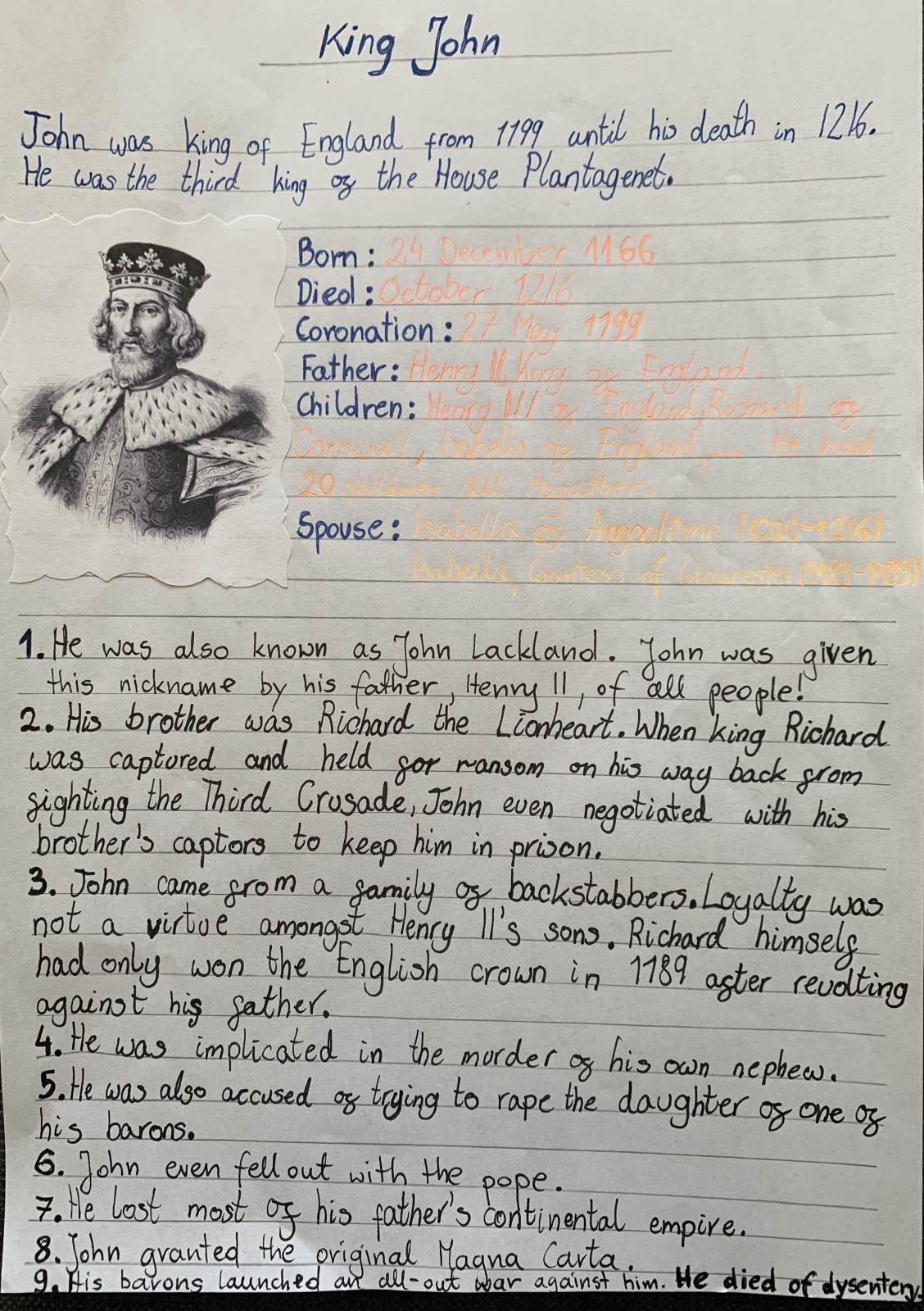 Working hard
Doing lots of baking!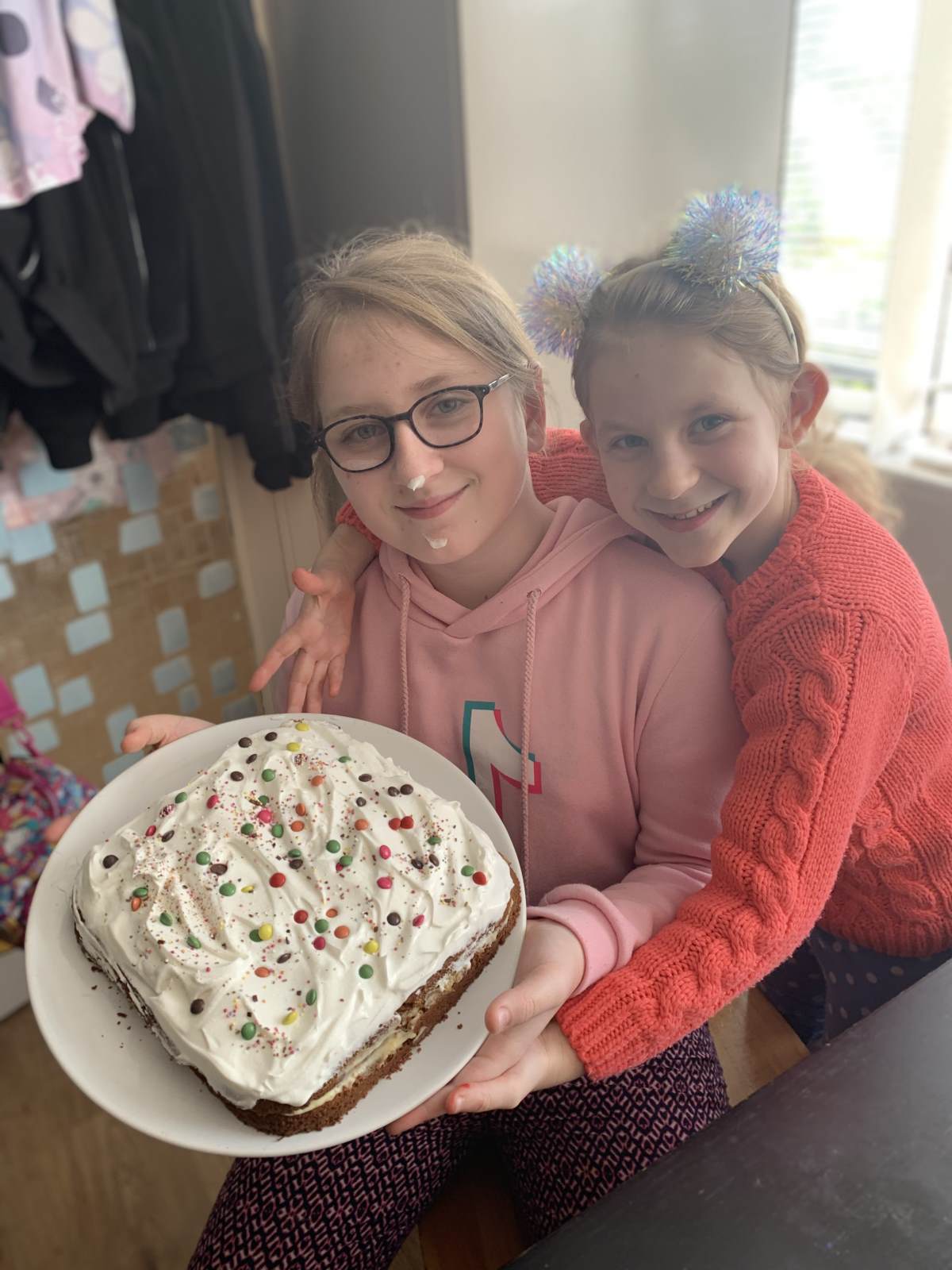 Enjoying painting at school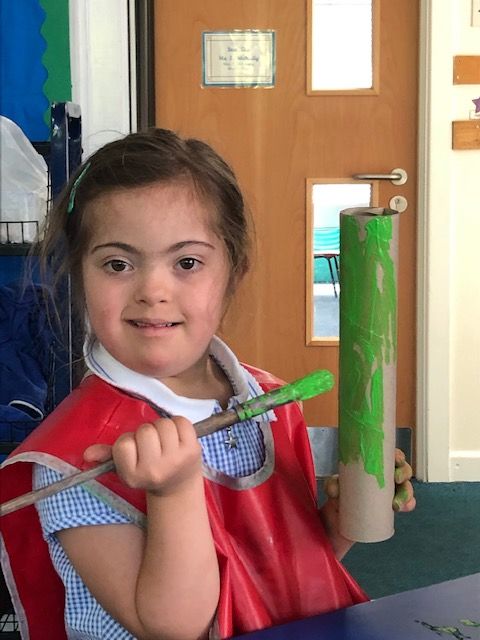 Alex M (Yr 4) is growing vegetables and has a novel way of watering her plants .....
She is also learning how to play chess and has built a Norman Castle
I've been learning about Pandas and made this!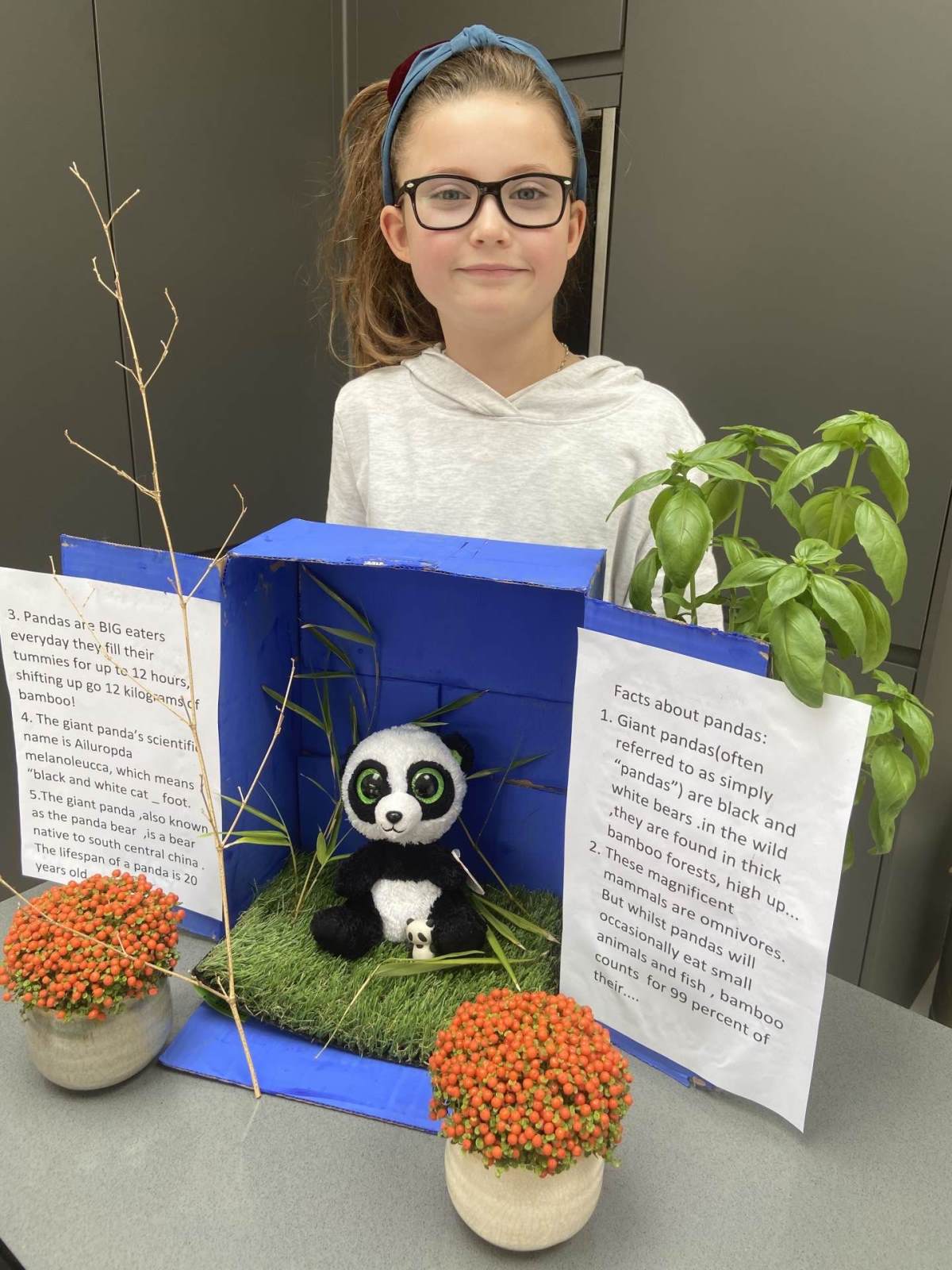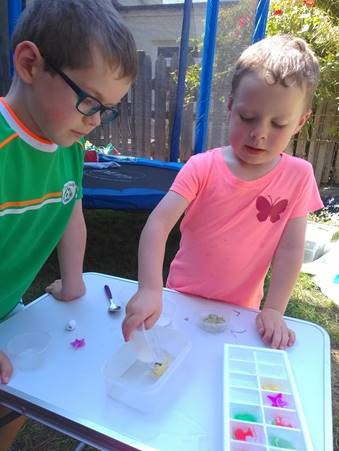 Making fun ice cubes
Maria's (Year 2) work on Weather and Continents
Rio's (Year 1) work on bats, squids and the white tiger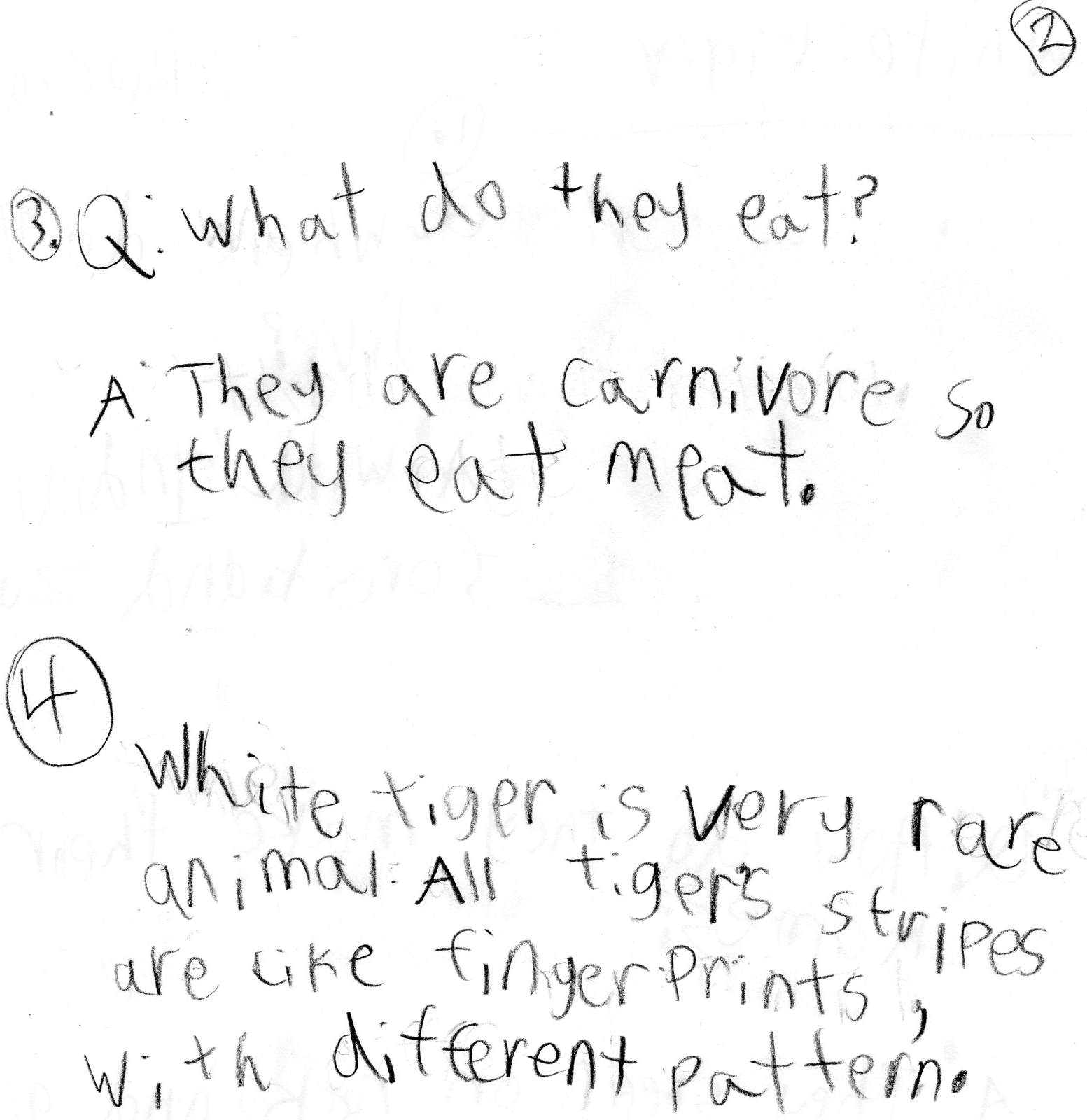 Alicia (Year 1) has been doing some work on Florence Nightingale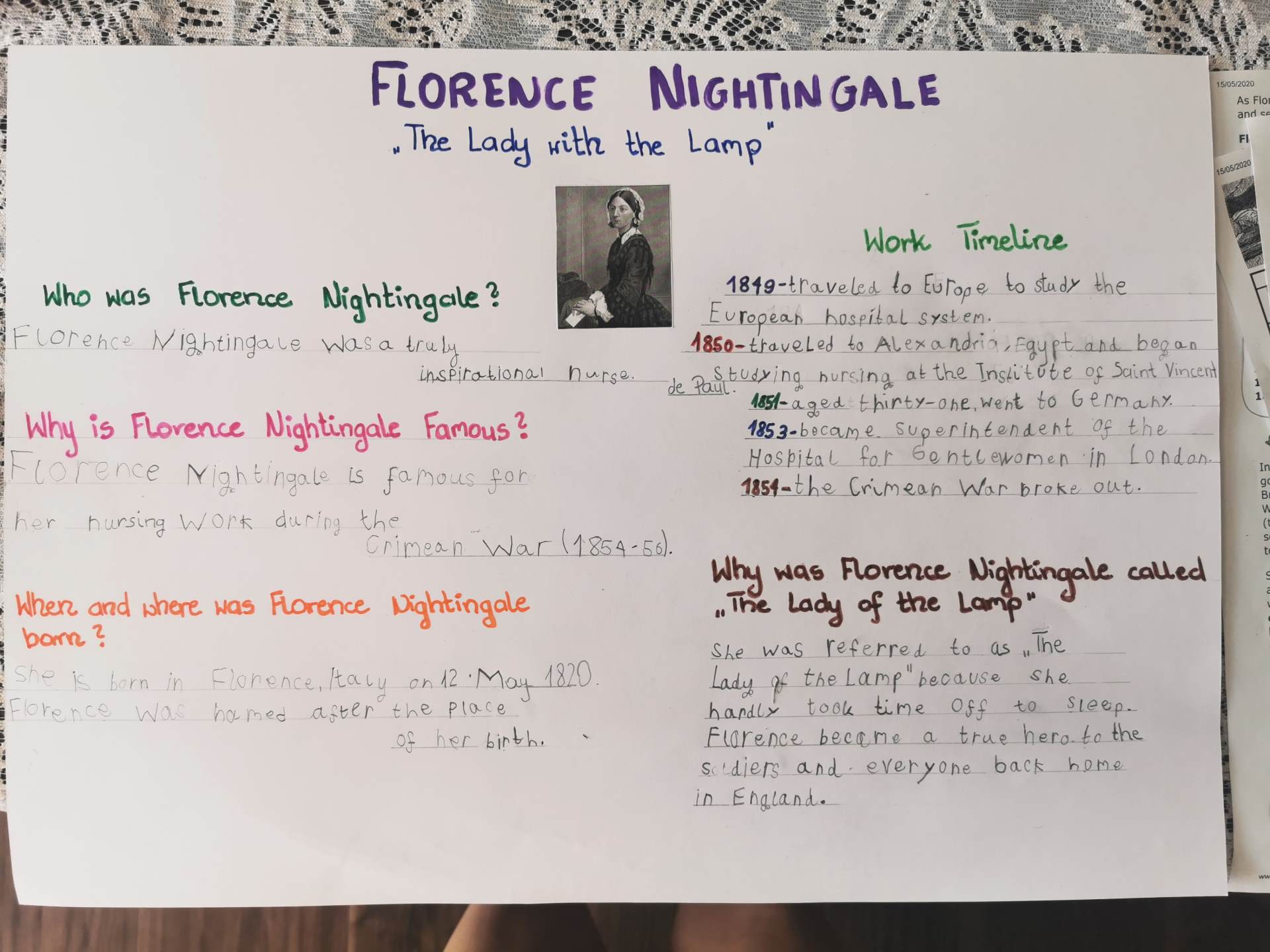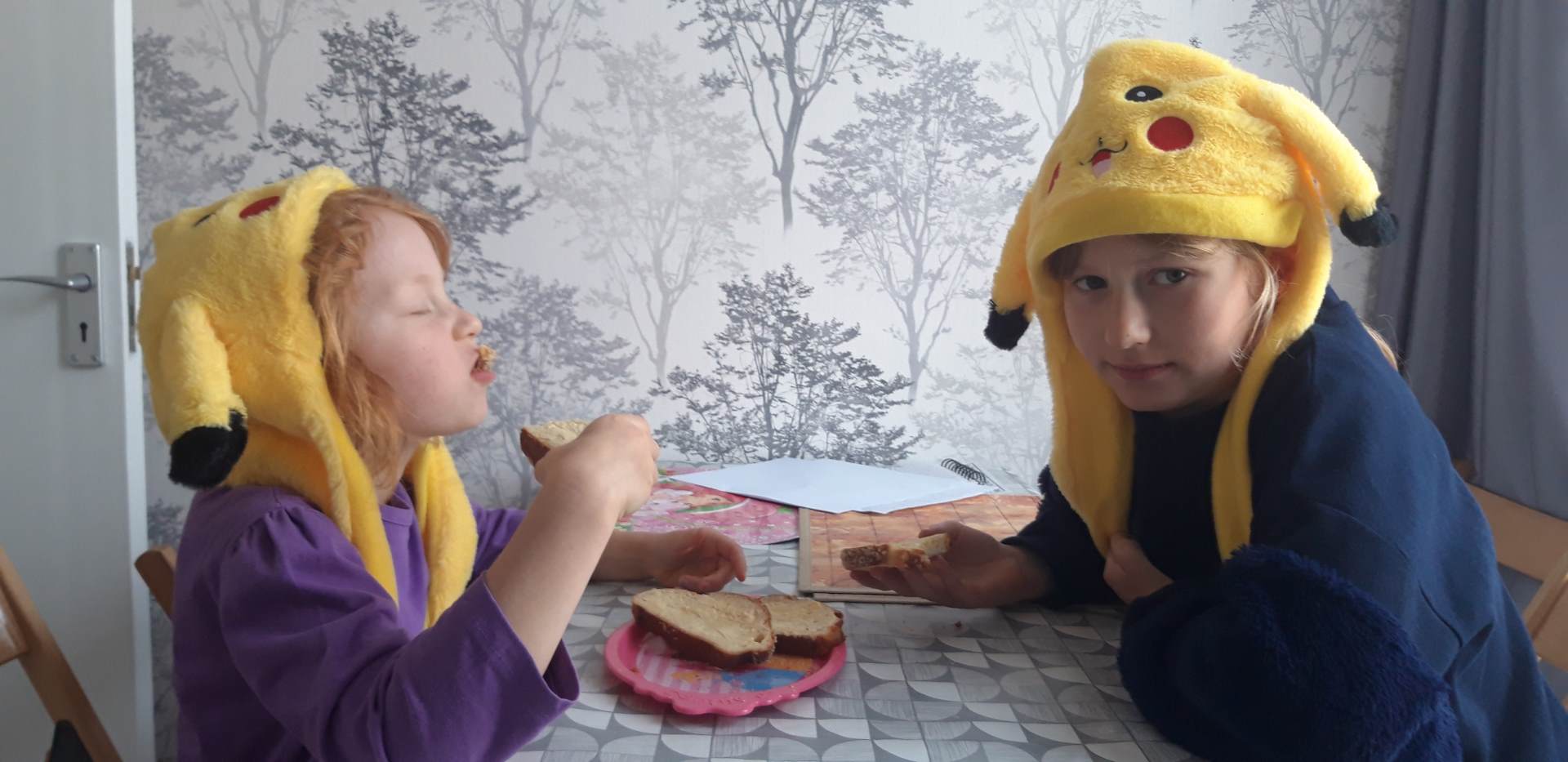 Yum!
Using the trampoline for studying and jumping!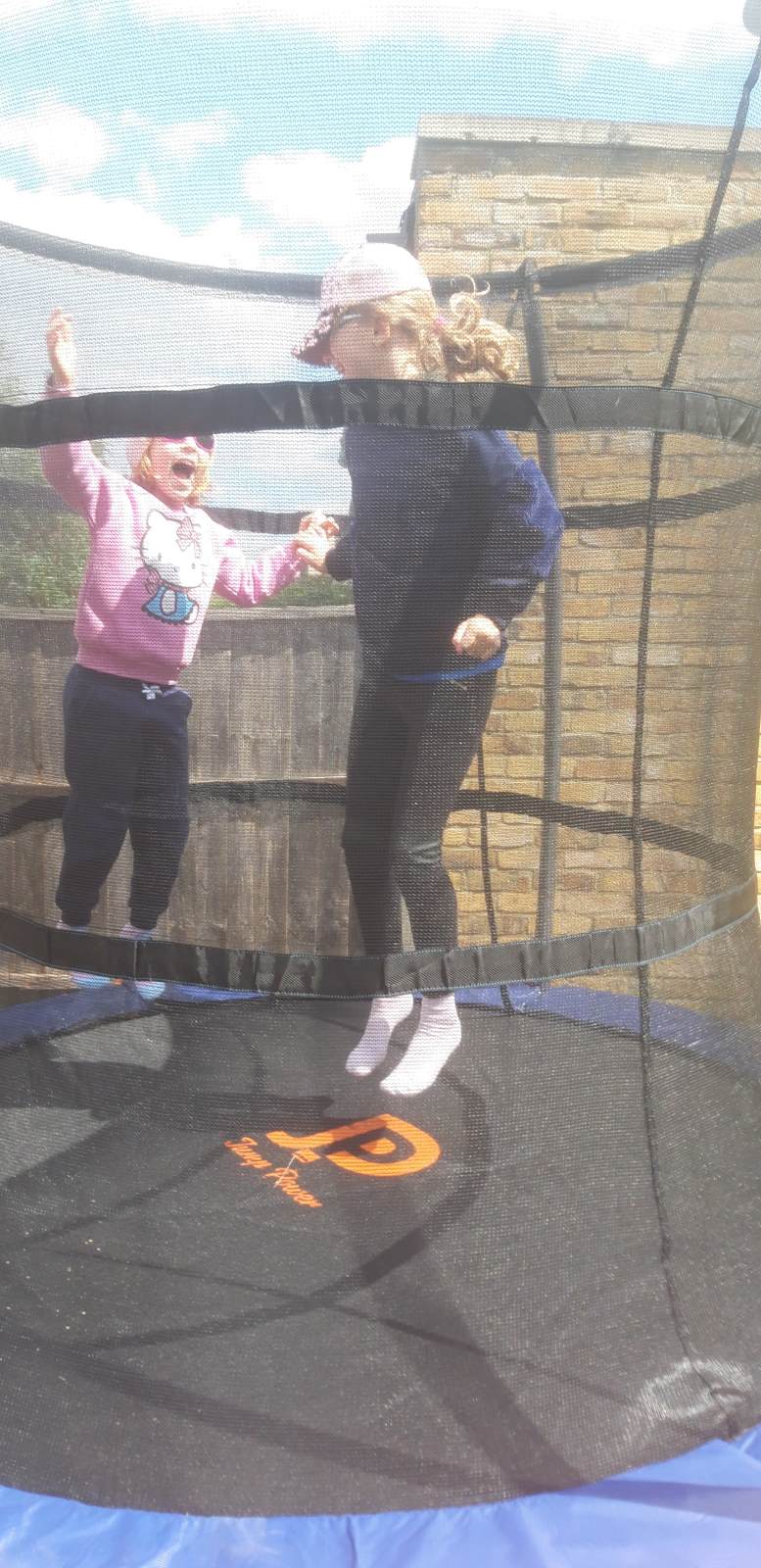 Lena F's poem in English and Polish!
Our pictures as part of a sea collage we made with our parents. Have a look at the finished collage .......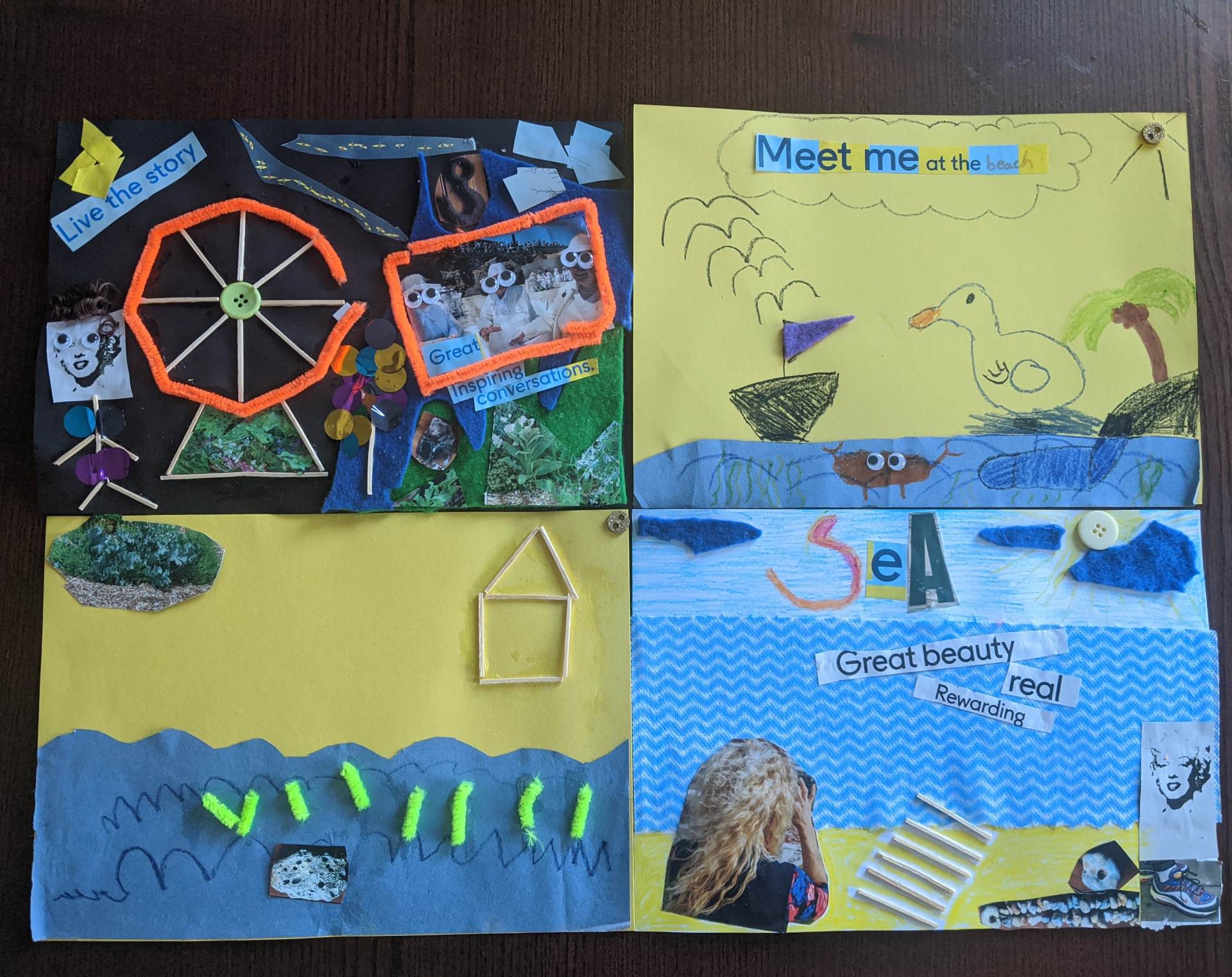 I have been busy making a poster about myself, learning my number bonds, making shapes using lolly sticks and I made a girl car from a box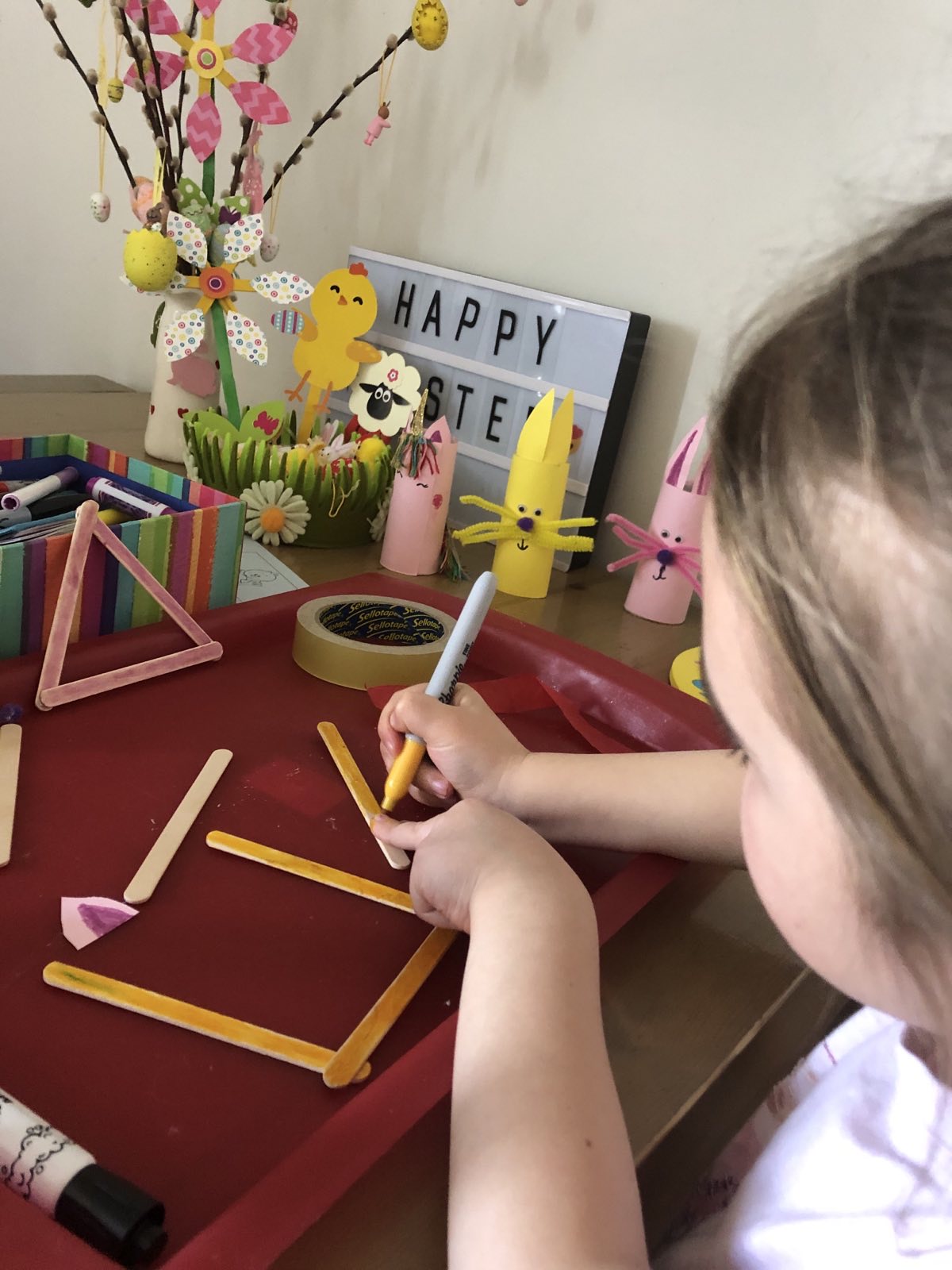 The Gallaghers have made another video documenting their exploits during lockdown. You can see all the videos at -
https://www.youtube.com/playlist?list=PLfkNyJltIrl7jrQcNB8MrRBfTSPcQkEGW
I've been busy crafting AND baking!
My May Altar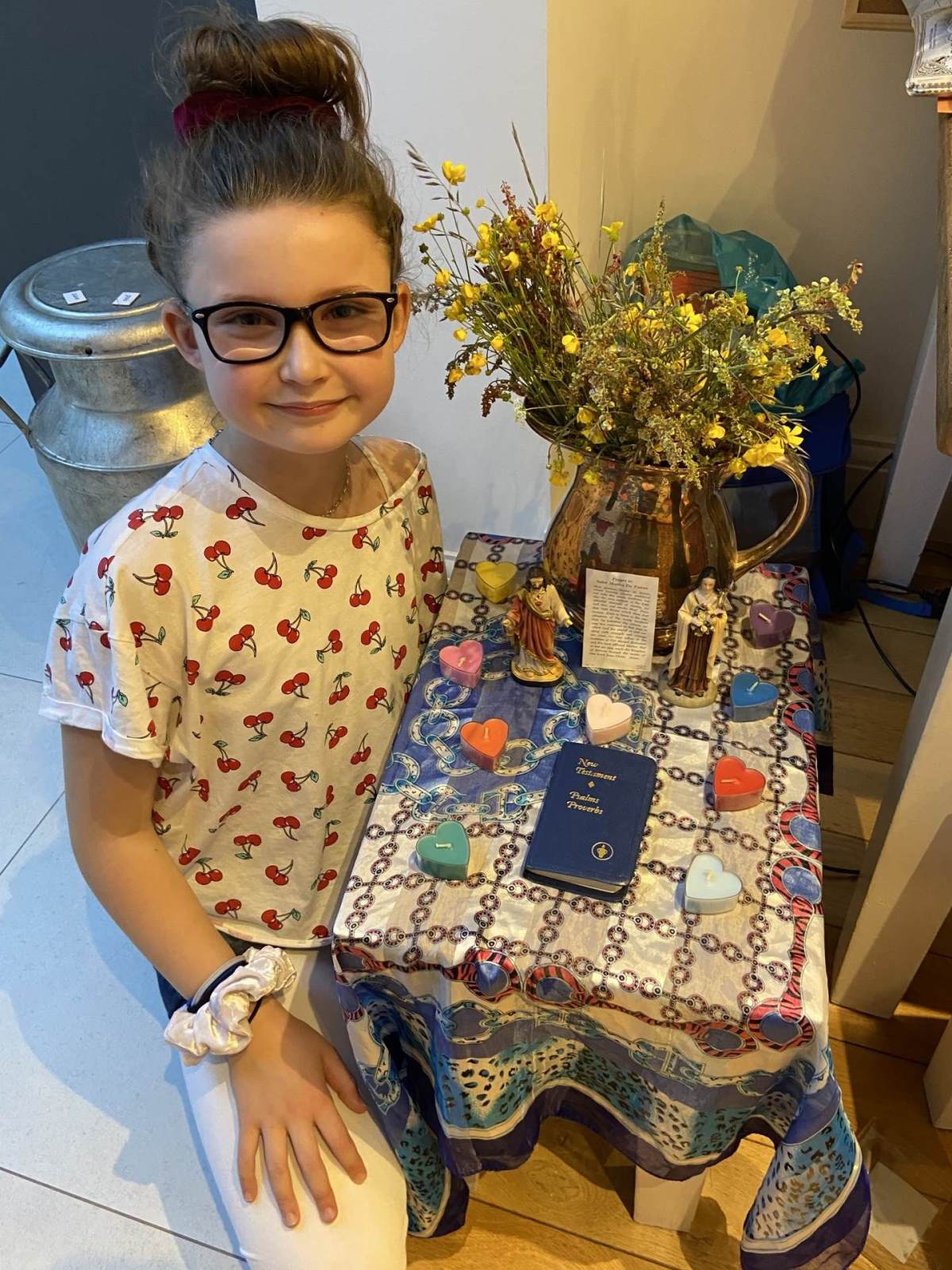 I made a camera today at school
Maria's (Y2) activity poster requested from Mrs Fleming's assembly of 11th May
Zuzanna's (Y2) activity poster requested from Mrs Fleming's assembly of 11th May
I've made an ocean habitat (Year 2)
Dominic's artwork (Year 2)
Sebastian's (Year 6) art work - 'Frida Kahlo' and 'Picasso'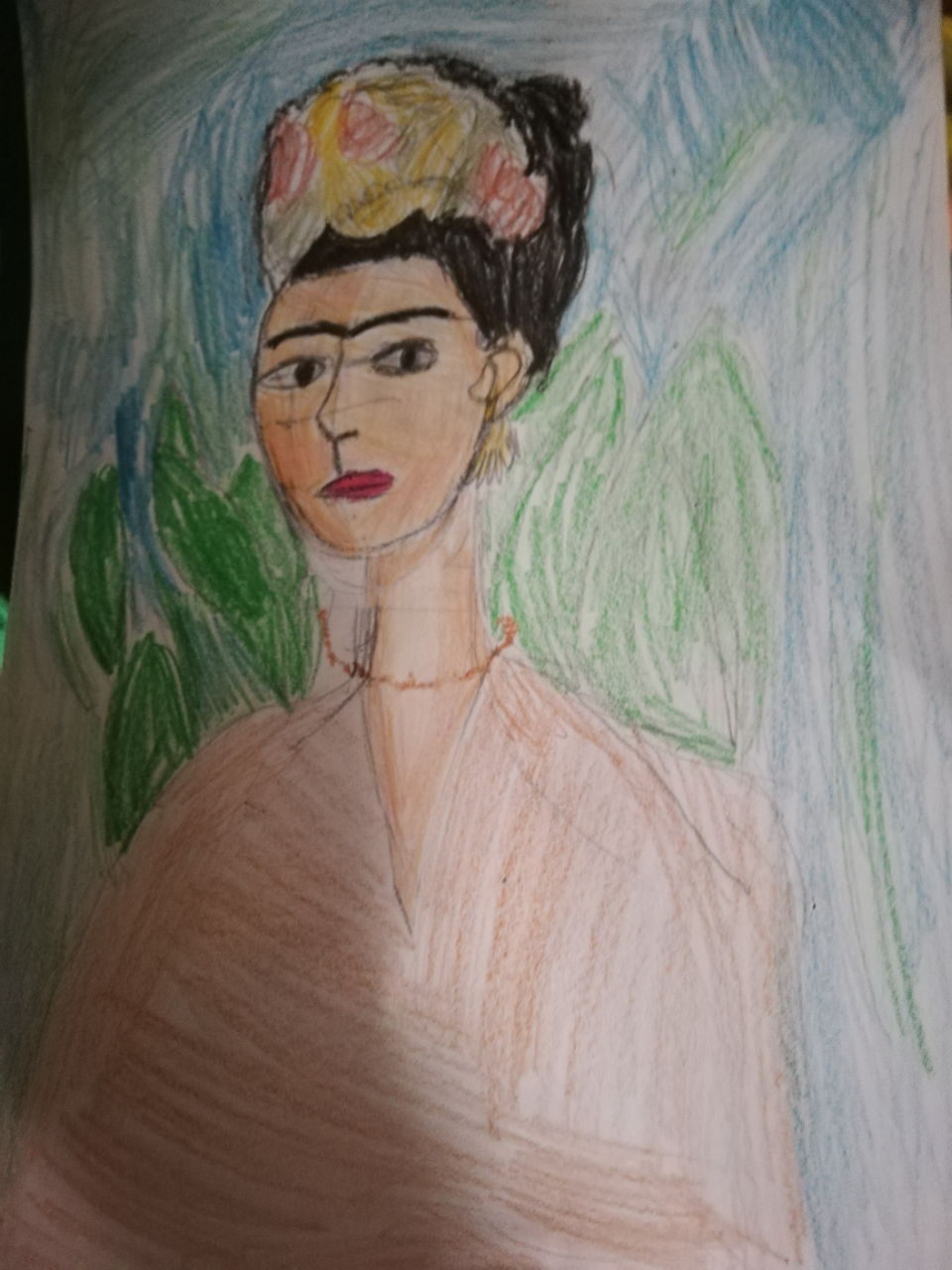 Astrid's work on Volcanoes
My 'Jackson Pollock' painting
My delicious cake
Some examples of my craft work and plants I have been growing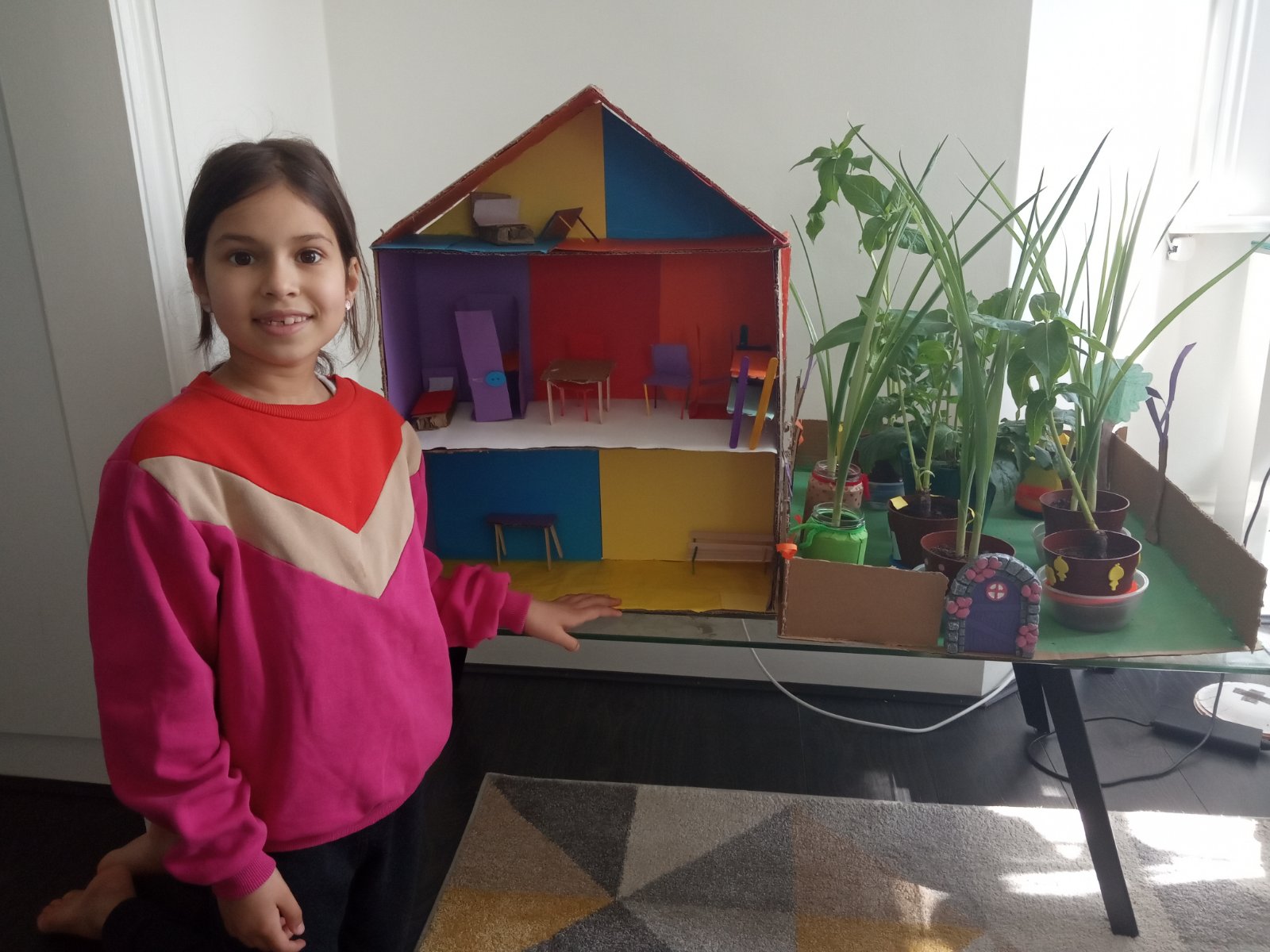 Then all ready for the home-schooling day. In full uniform too!
Getting getting ready for the school day making pancakes for breakfast
Read Lena F's (Year 5) stories - A Day to Remember and The Great Reunion - a story Lena's dream with her friends in Year 5 and a wizard-like Ms Hinc!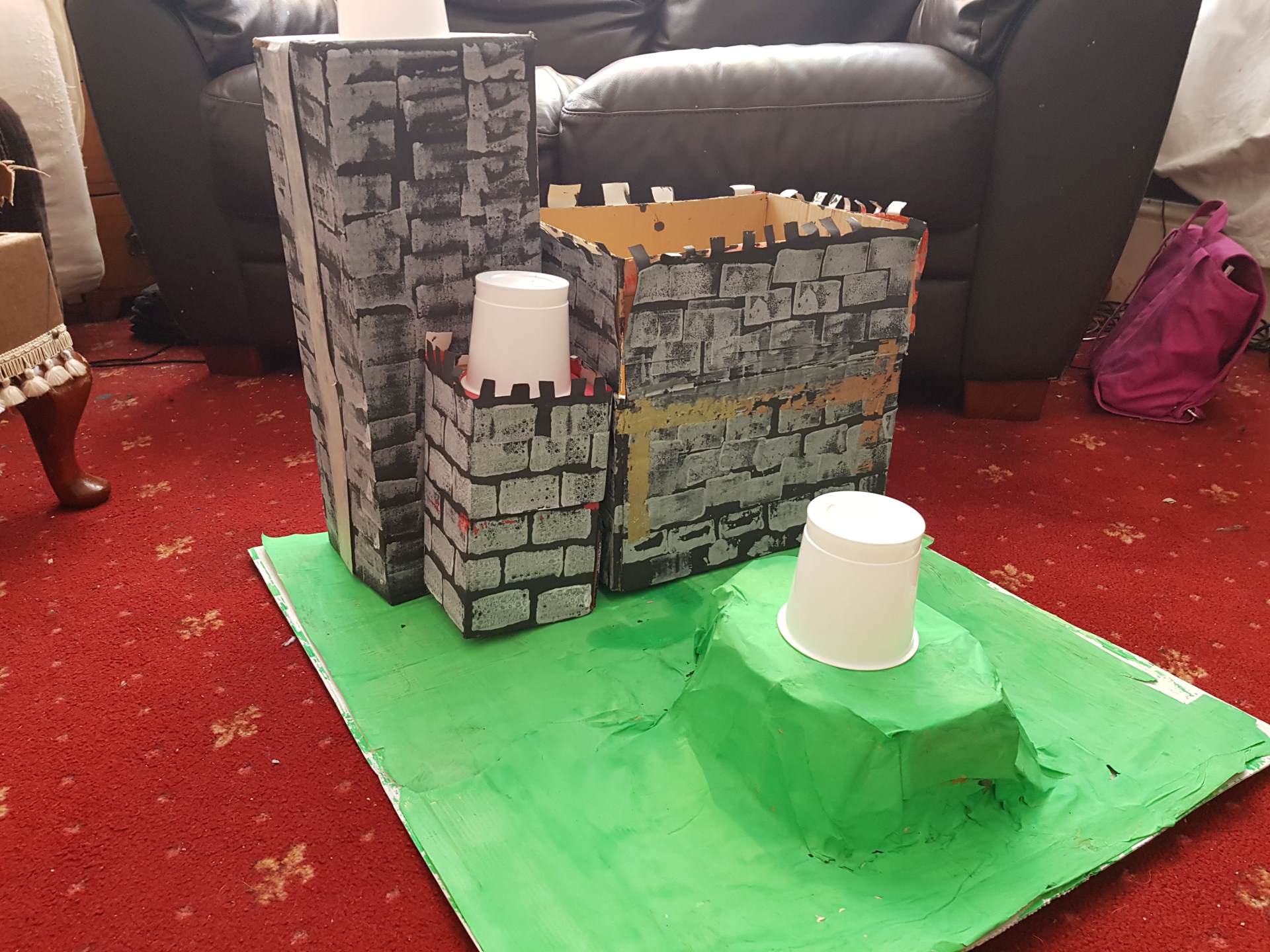 Hannah's Norman Castle

Hannah's work on the Digestive System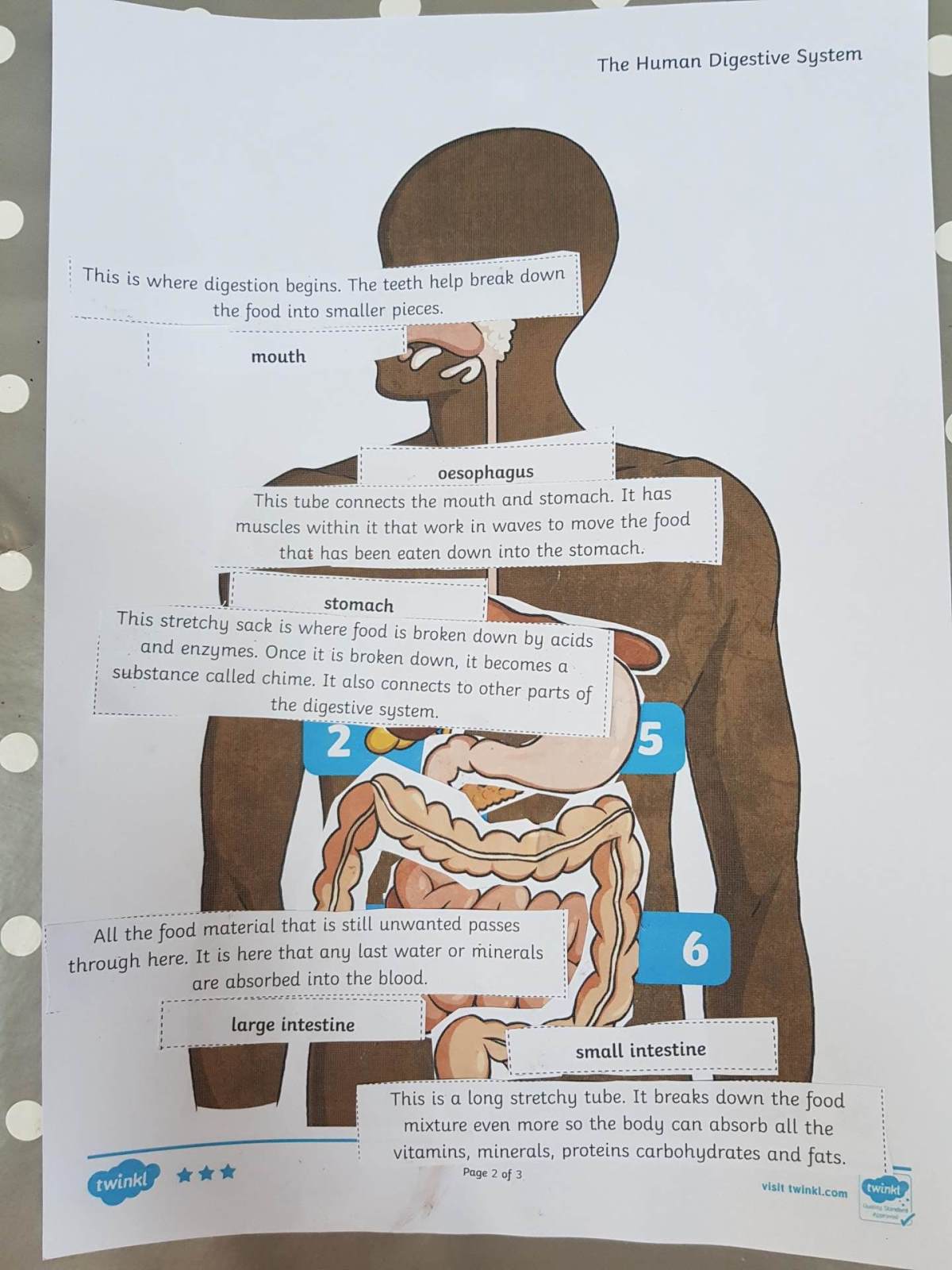 Hannah's work on the Stations of the Cross
Hannah making her Dad's Birthday cake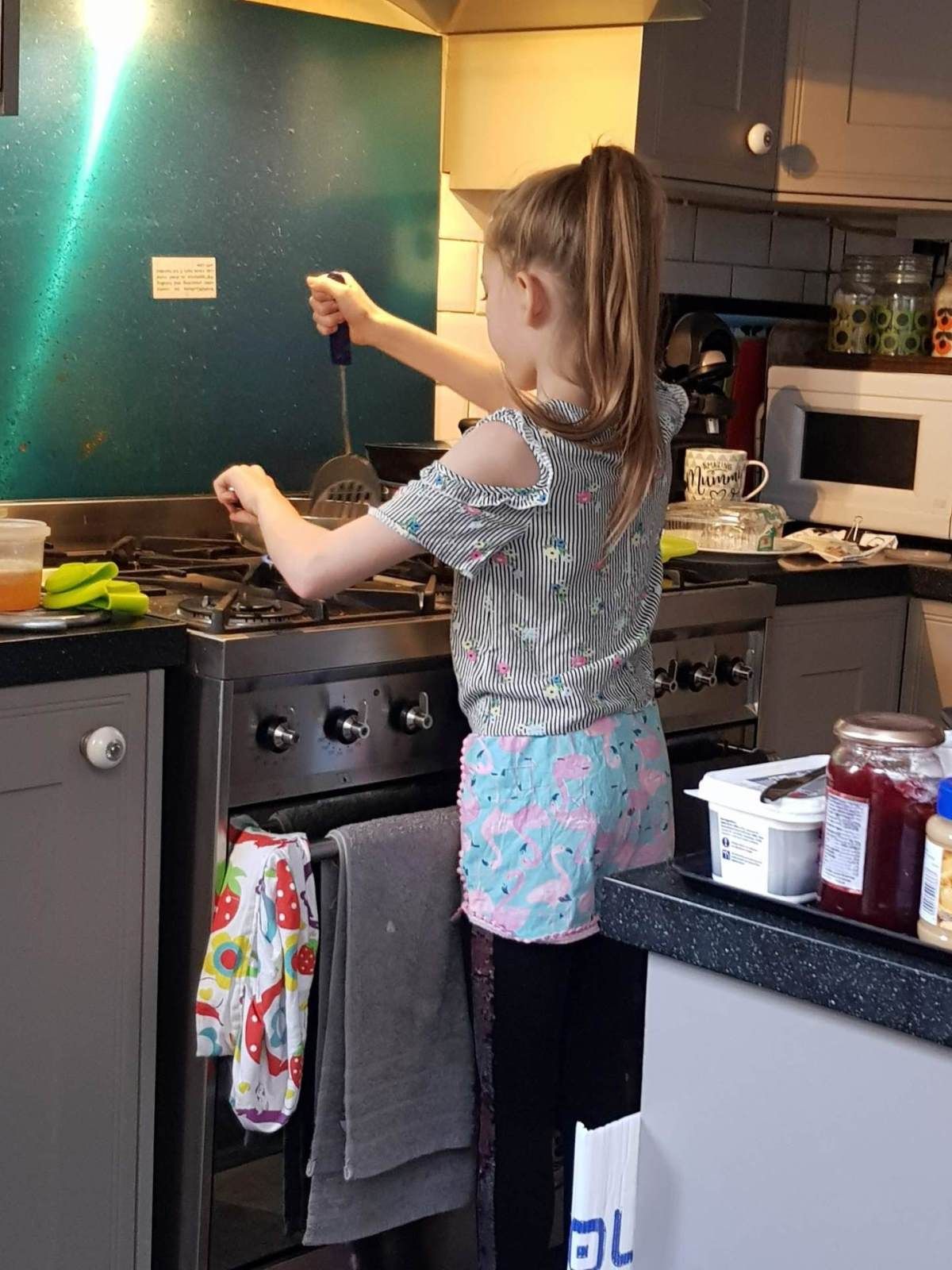 Eira's first jar of homemade strawberry jam. She did everything completely by herself including researching the recipe, measuring ingredients, cooking, bottling and labeling.​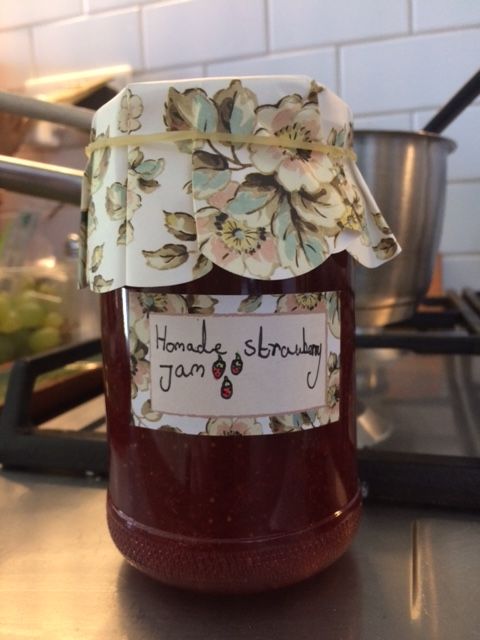 Making cards for my Grandmas in Hungary and Spain & learning my number bonds.
Celebrating VE Day at School
I made a model of a plant cell and wanted to share it. We only had red food dye. The grape is the nucleus, the box is the protective shell, the peas are the cell membrane and the bag represents the cytoplasm.
No explanation needed!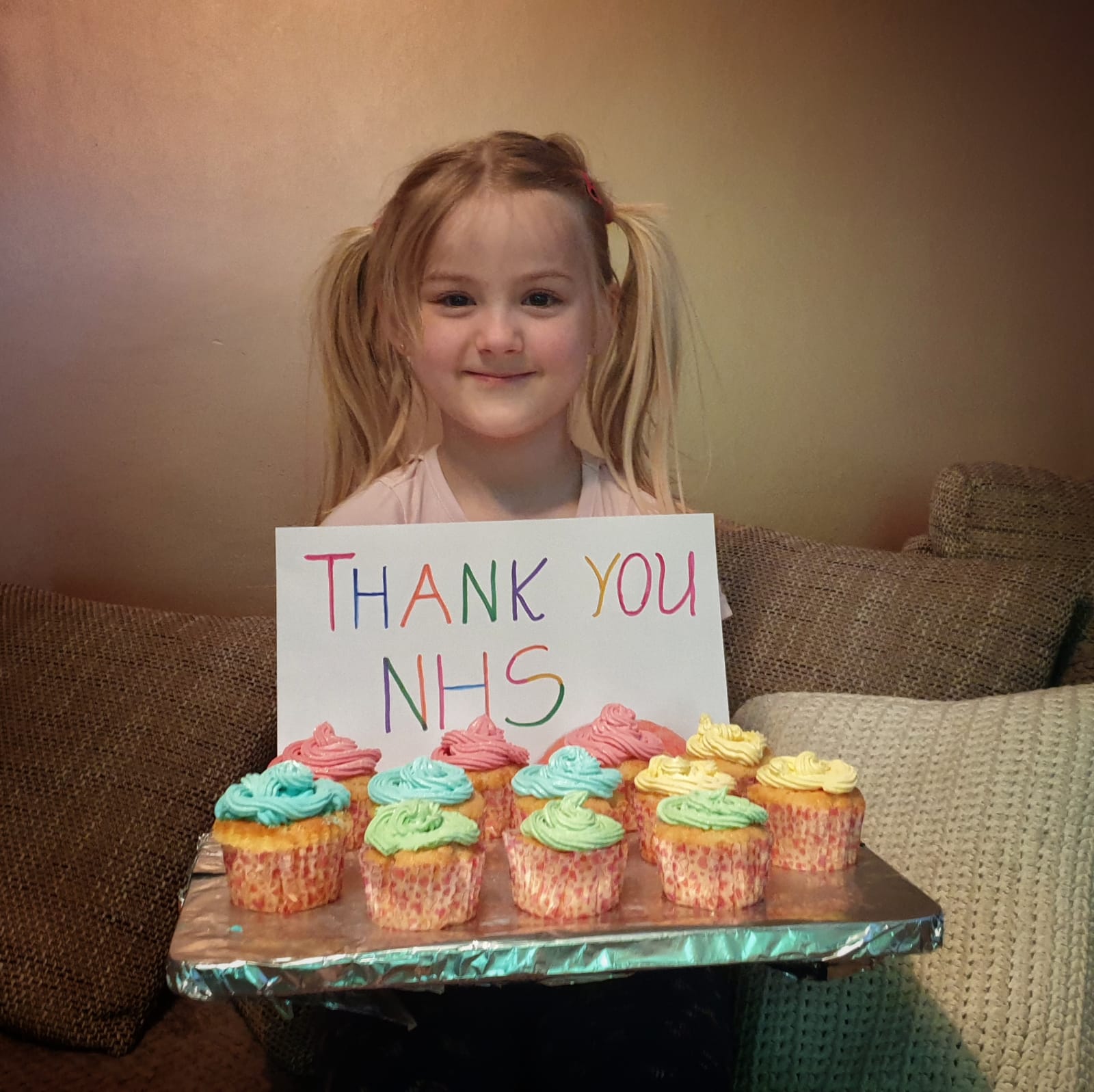 Painting - flags and walls!
Stay at Home Camp for the Scouts - I was not allowed to sleep in my bed so slept in the Teepee!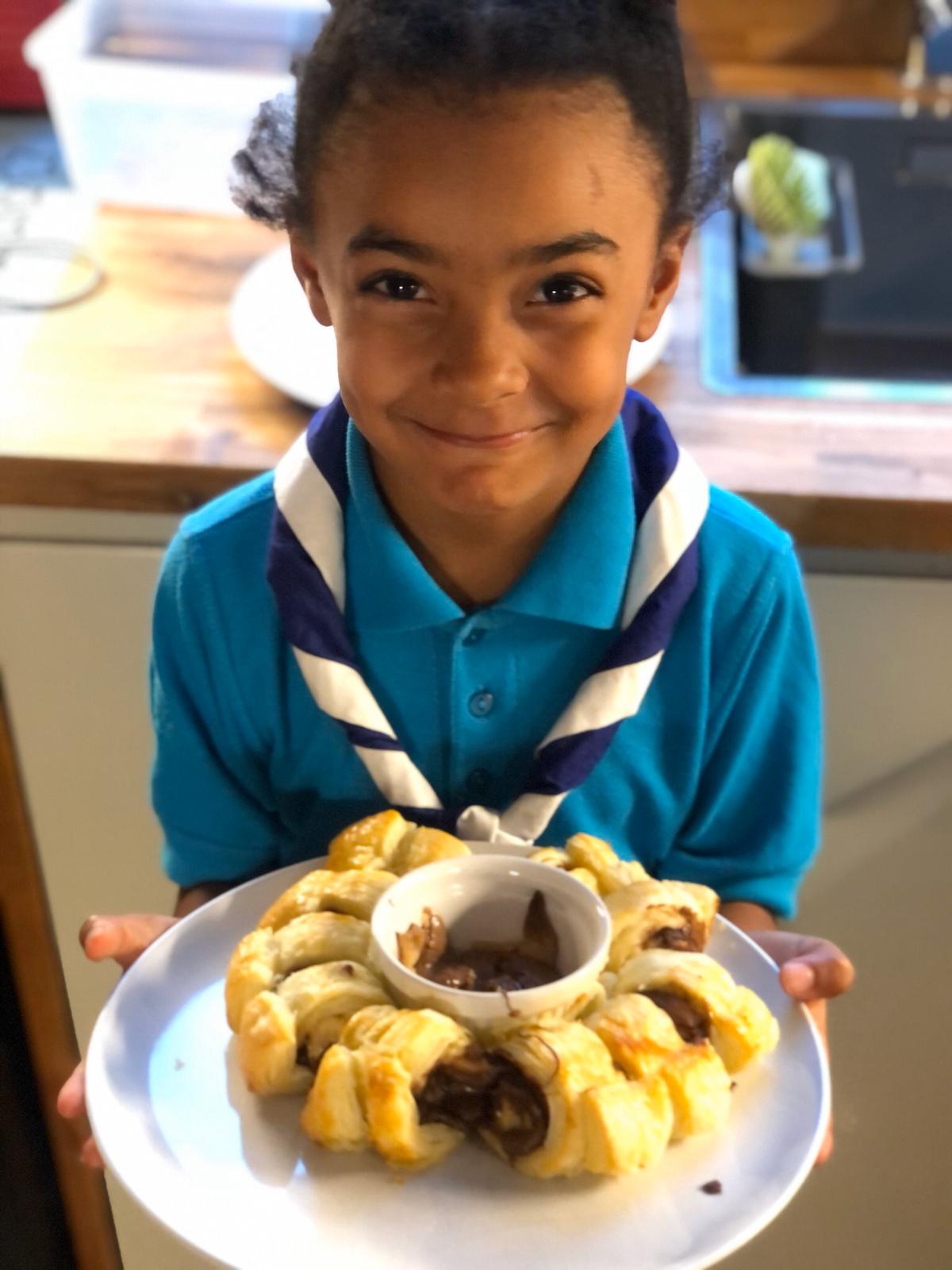 I've made a Nutella & Banana Puff Pastry Roll with a 'quick' video showing you how!
The Wings have been painting stones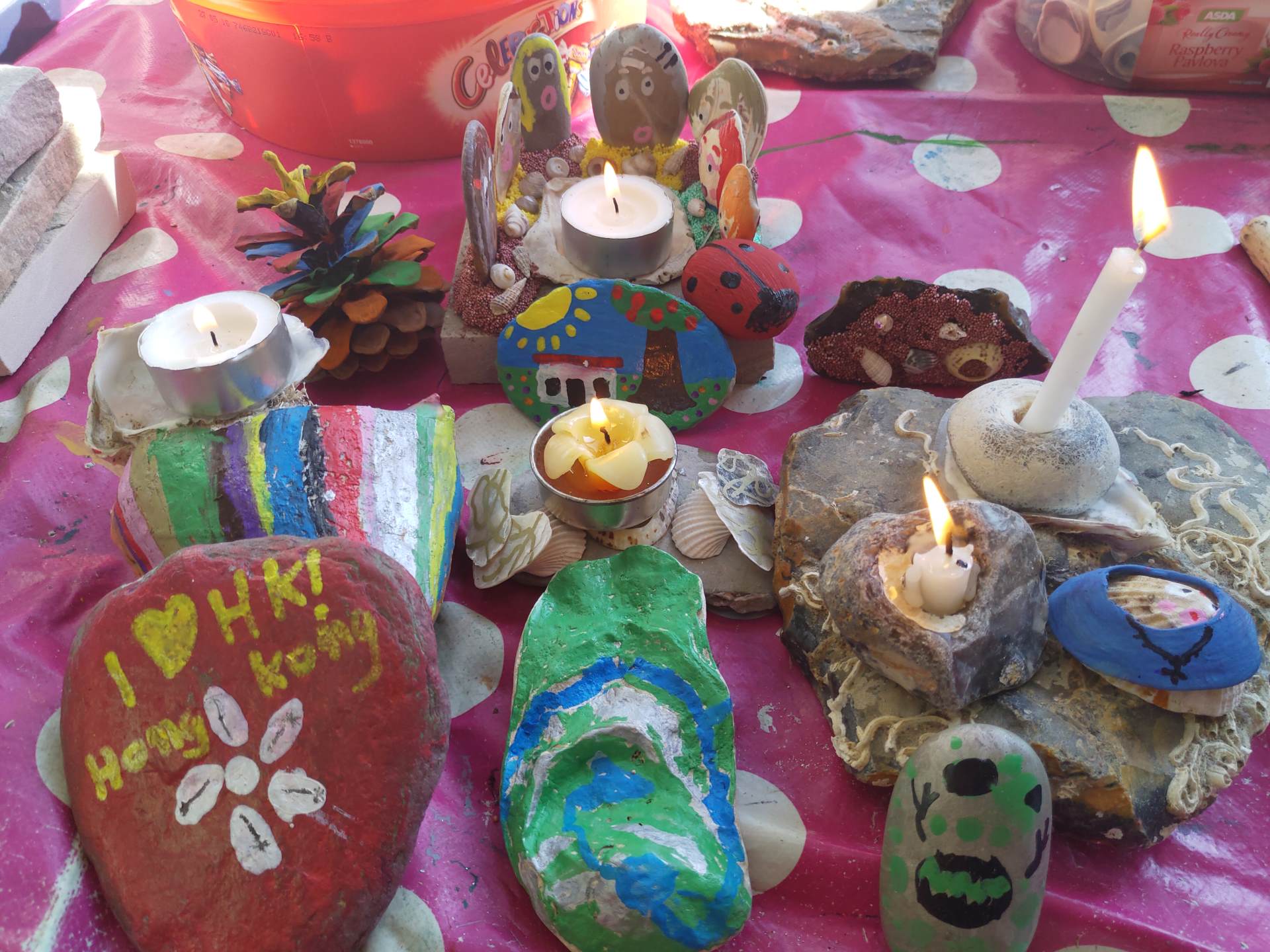 Look what I made - a nuclear plant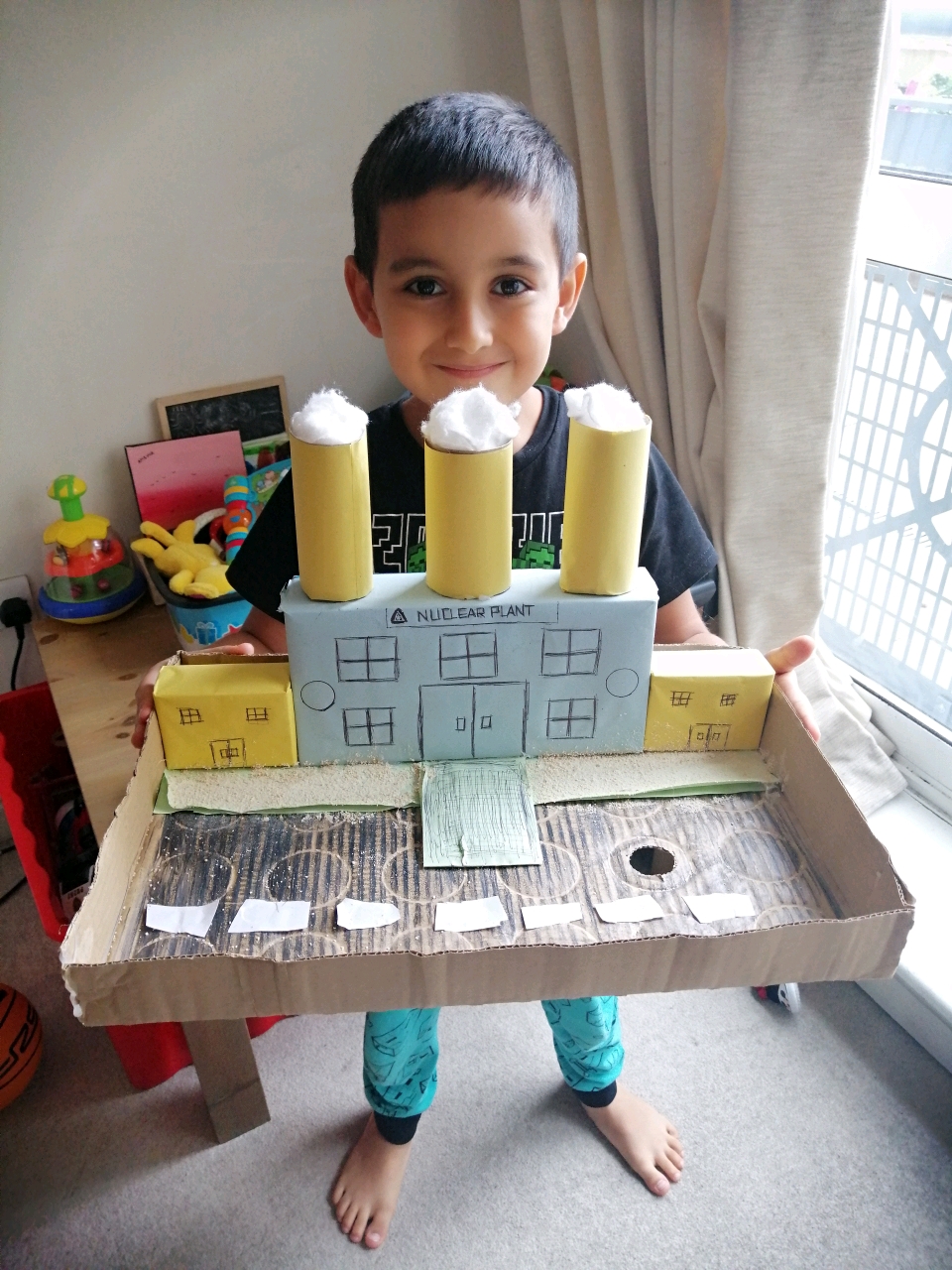 Ms Hinc submitted this fantastic poem by Ella-Rose (Year 5)
Making a collage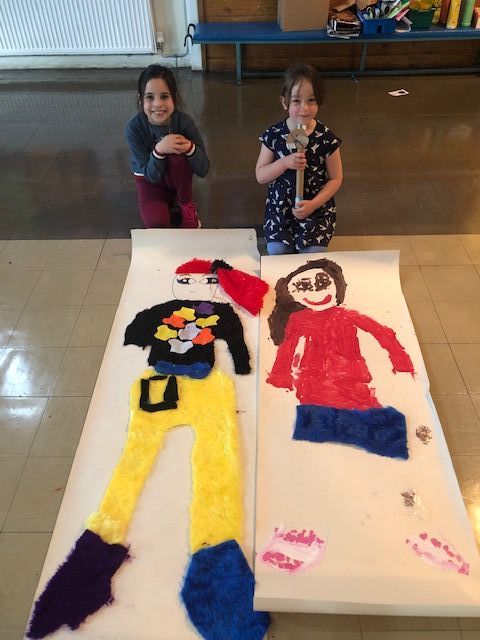 Planting tomatoes and watering the garden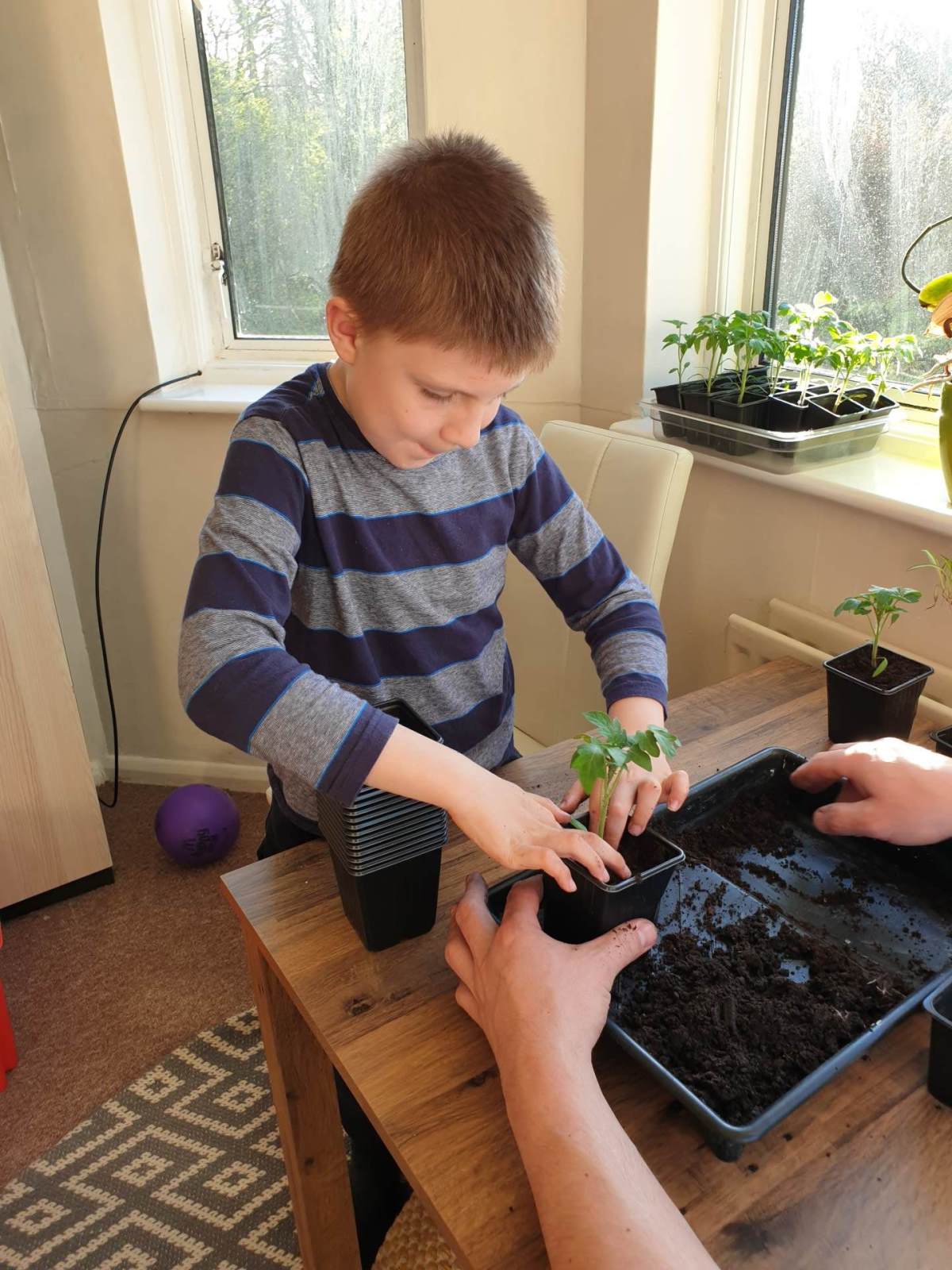 Ms Coleman submitted these two pictures painted by Johnny and Santannah-Marie (Year 2) as part of their Summer term topic 'The Seaside'.
Jack's drawing of a Spitfire (Year 6)
Submitted by Ms Hinc who writes that Jan in Year 5 is enjoying learning about the Industrial Revolution. He has created a fantastic sketch of a steam engine.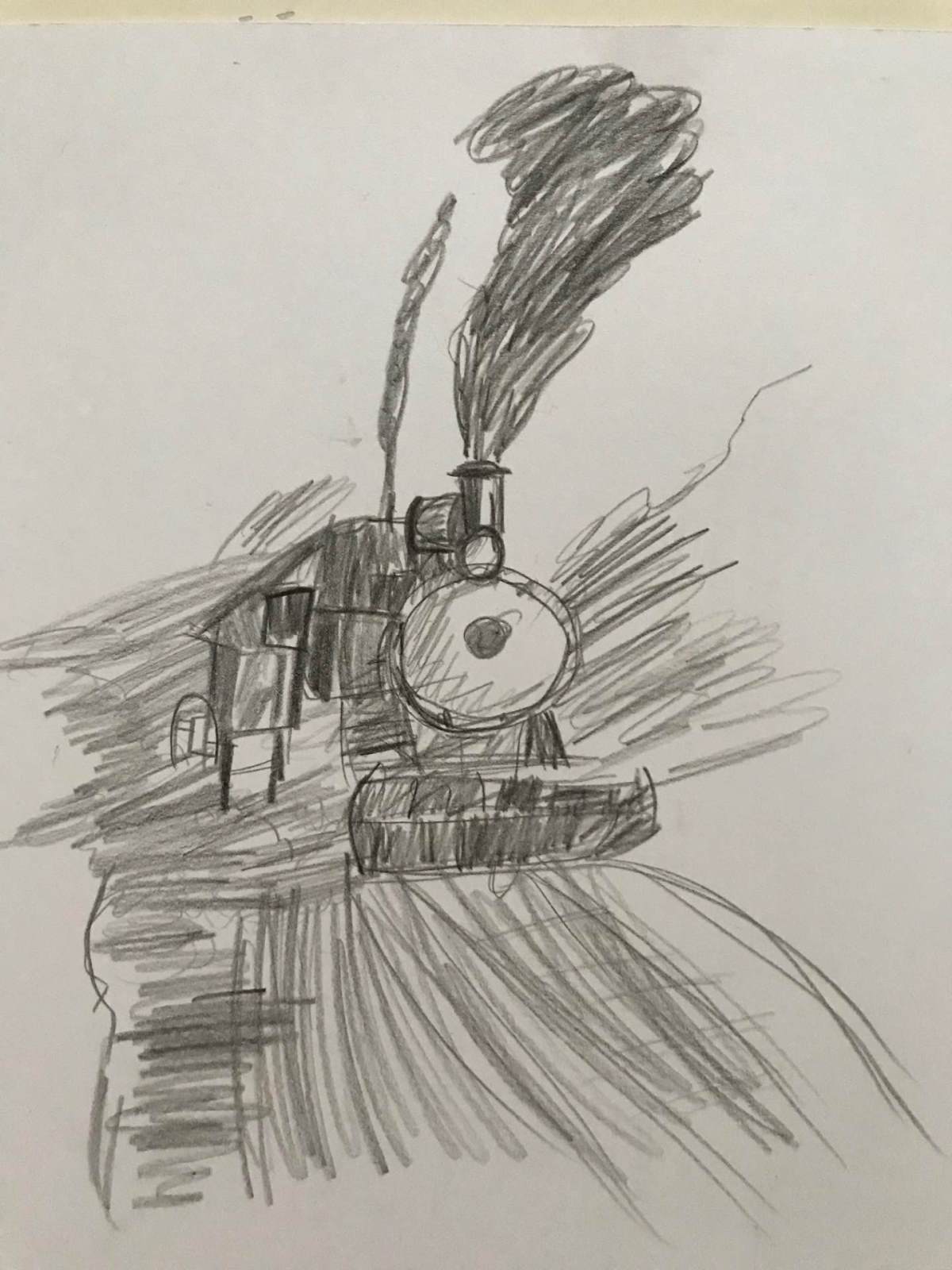 Vincent Van Gogh 'Starry Night'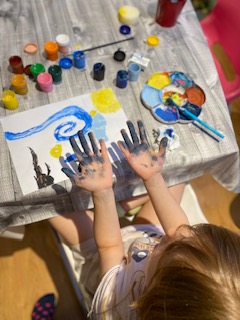 Making our delicious fruit snakes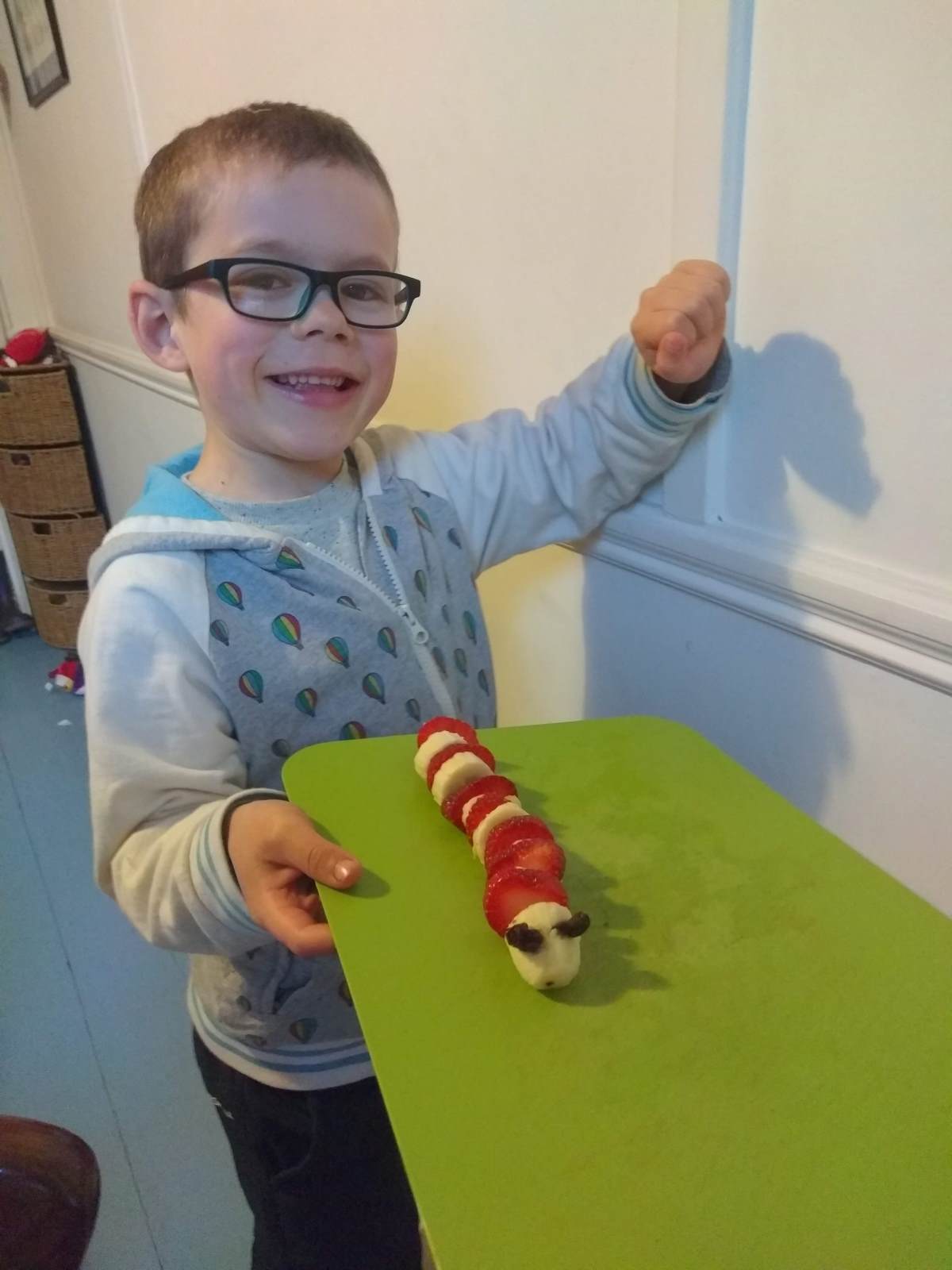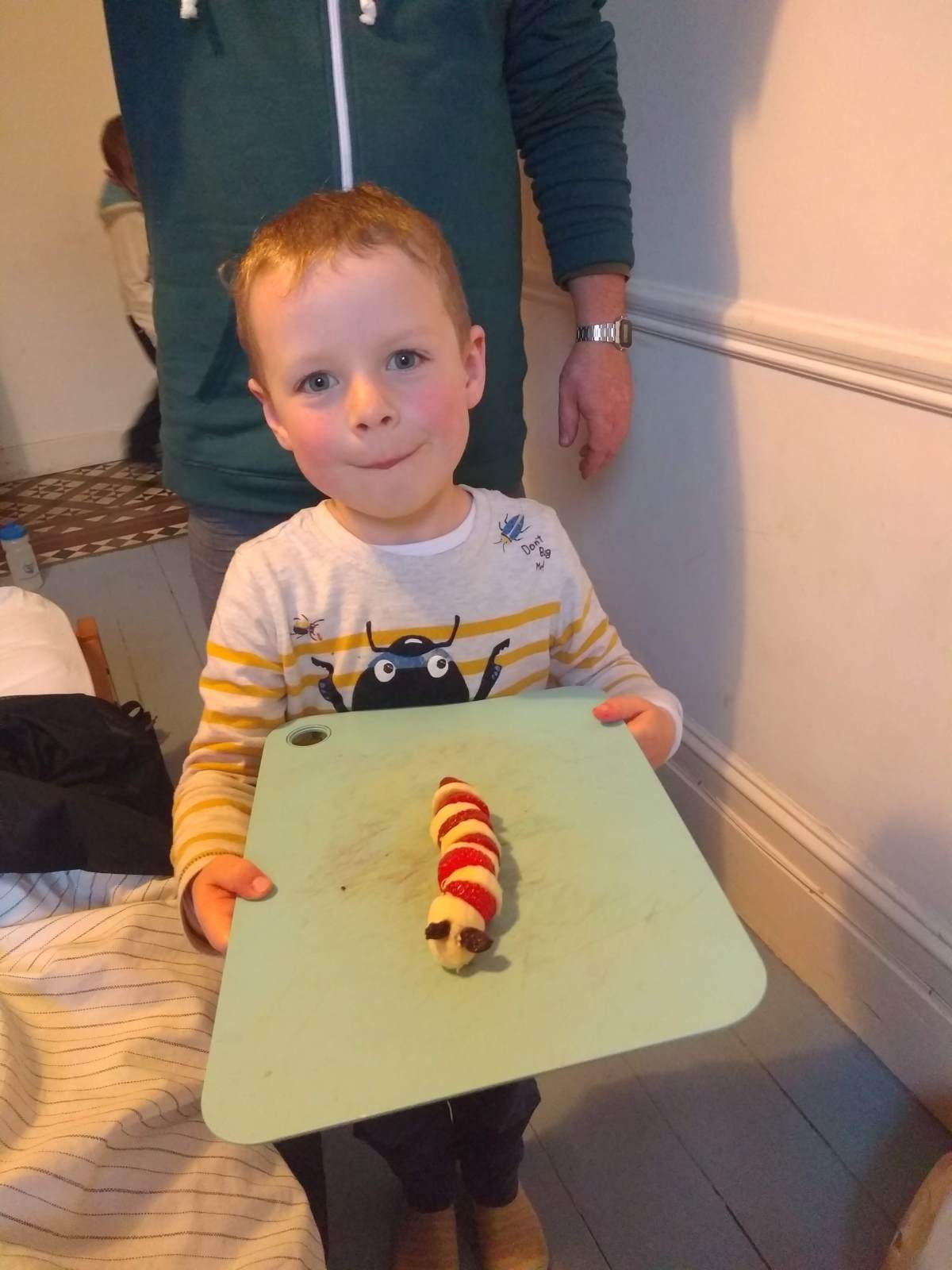 Take a look at the fantastic videos created by the Gallagher family on YouTube at -
https://www.youtube.com/playlist?list=PLfkNyJltIrl7jrQcNB8MrRBfTSPcQkEGW
Up to 28th April 2020 they have made 5 videos of their experiences during lockdown
Sharing a picture of our artwork in action. We are also looking at worms and lizards and painting, cooking and doing stone art.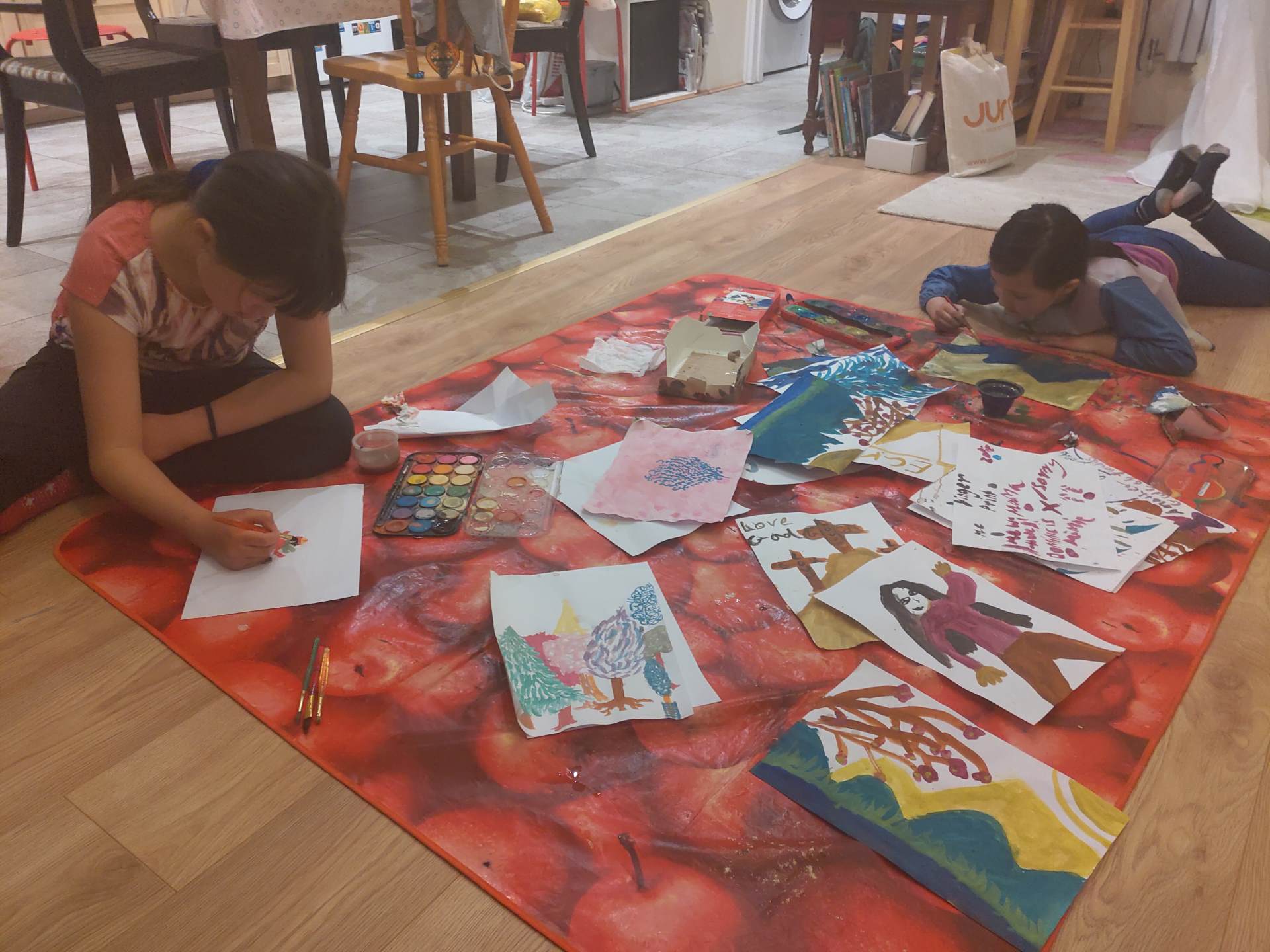 Yu-Zhen (Year 1) made this castle with her Dad!
Exercising!
A little Easter bunny and eating a homemade cup cake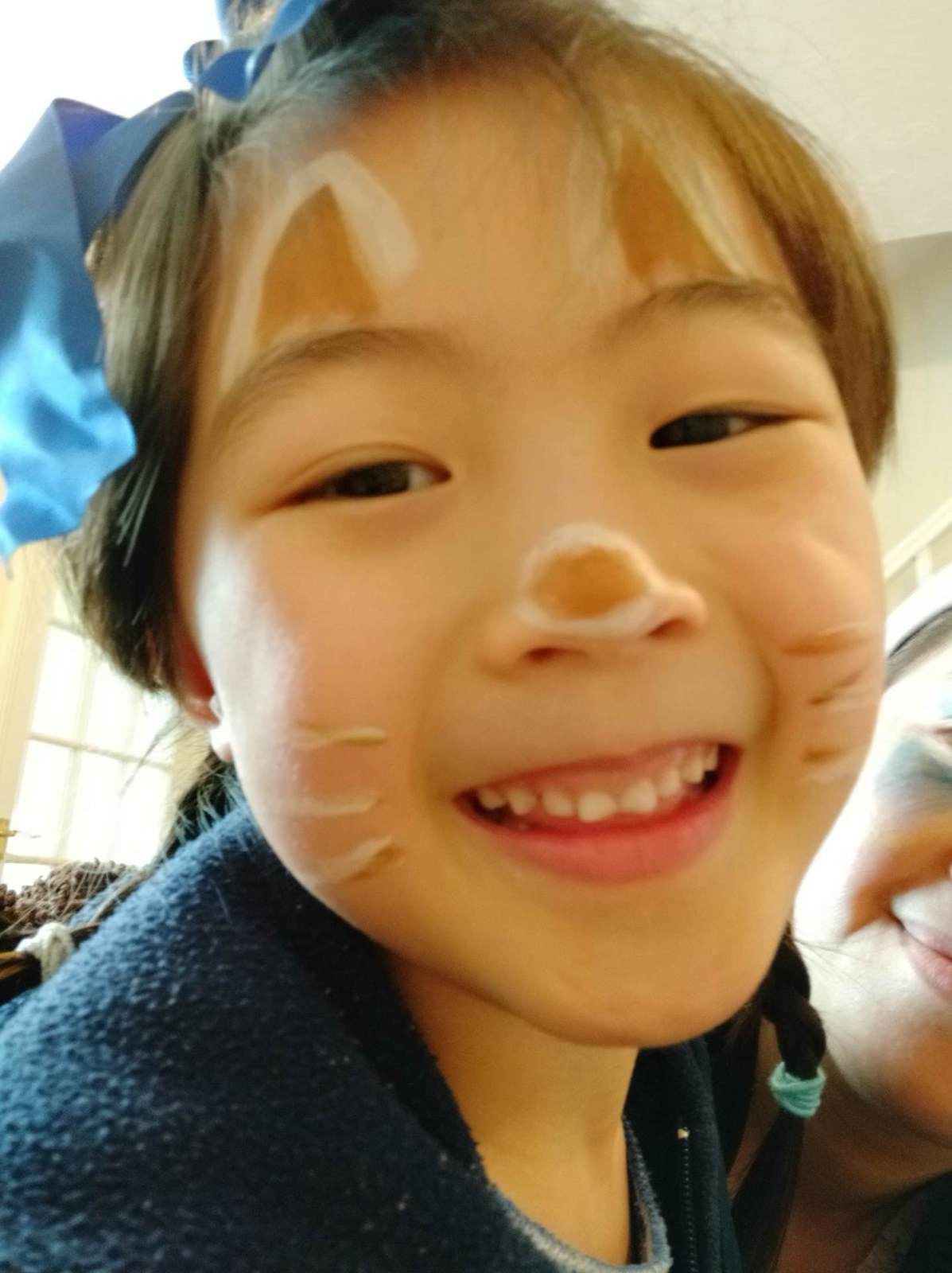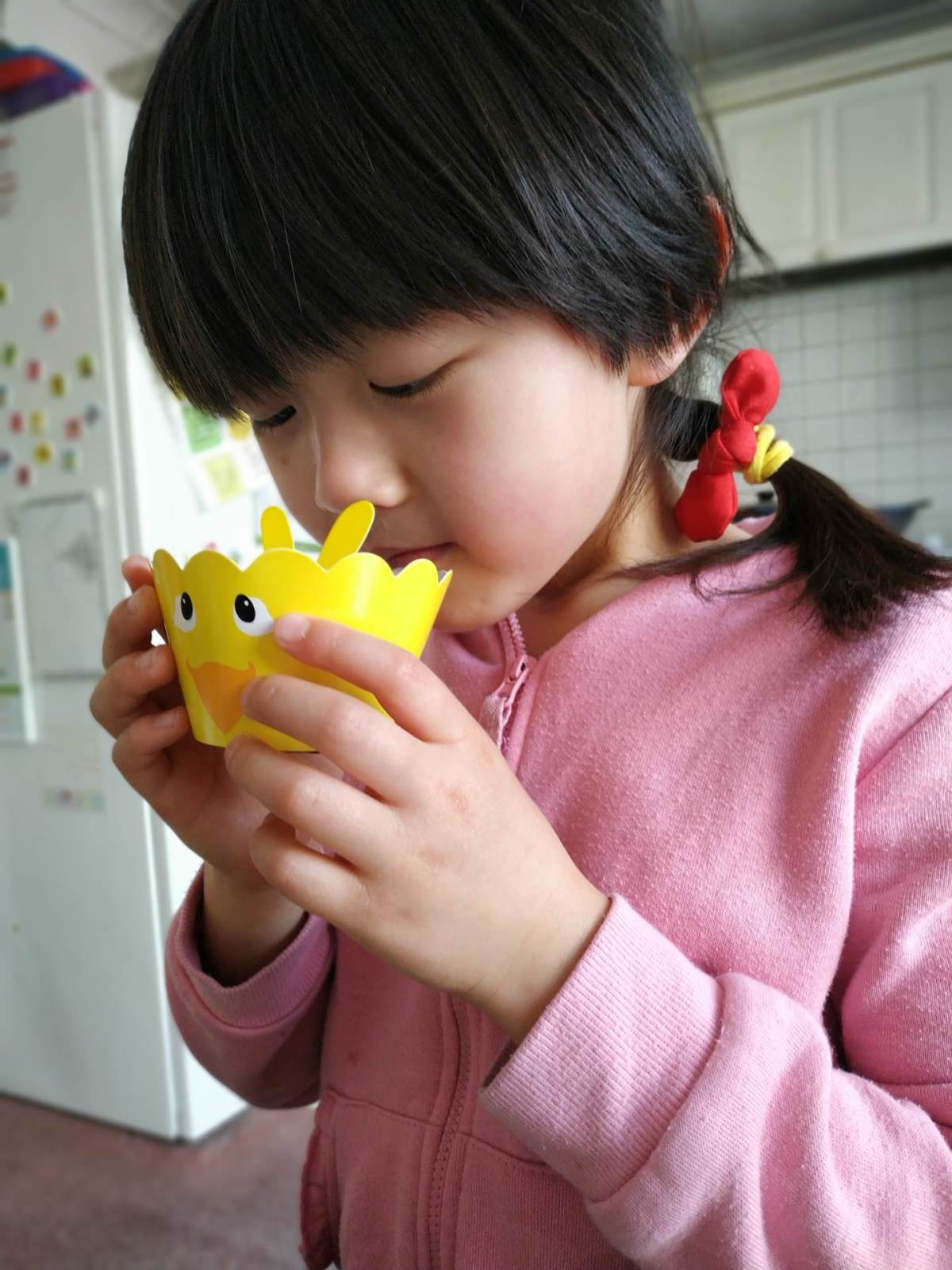 Miranda's (Year 4) step by step picture collage of making hot cross buns
My Easter Bonnet
Planting seeds!
Gardening with my little sister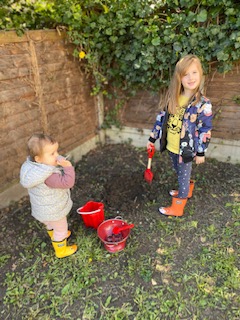 Making crosses for Palm Sunday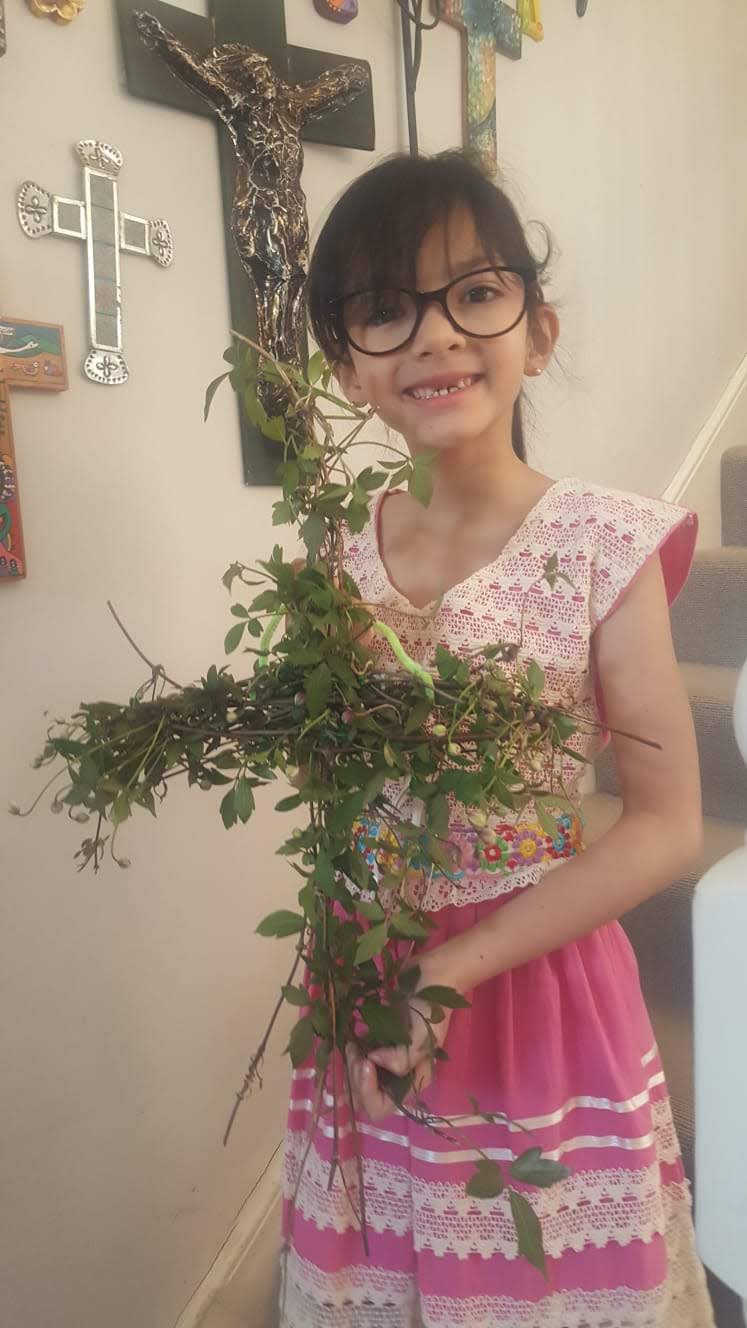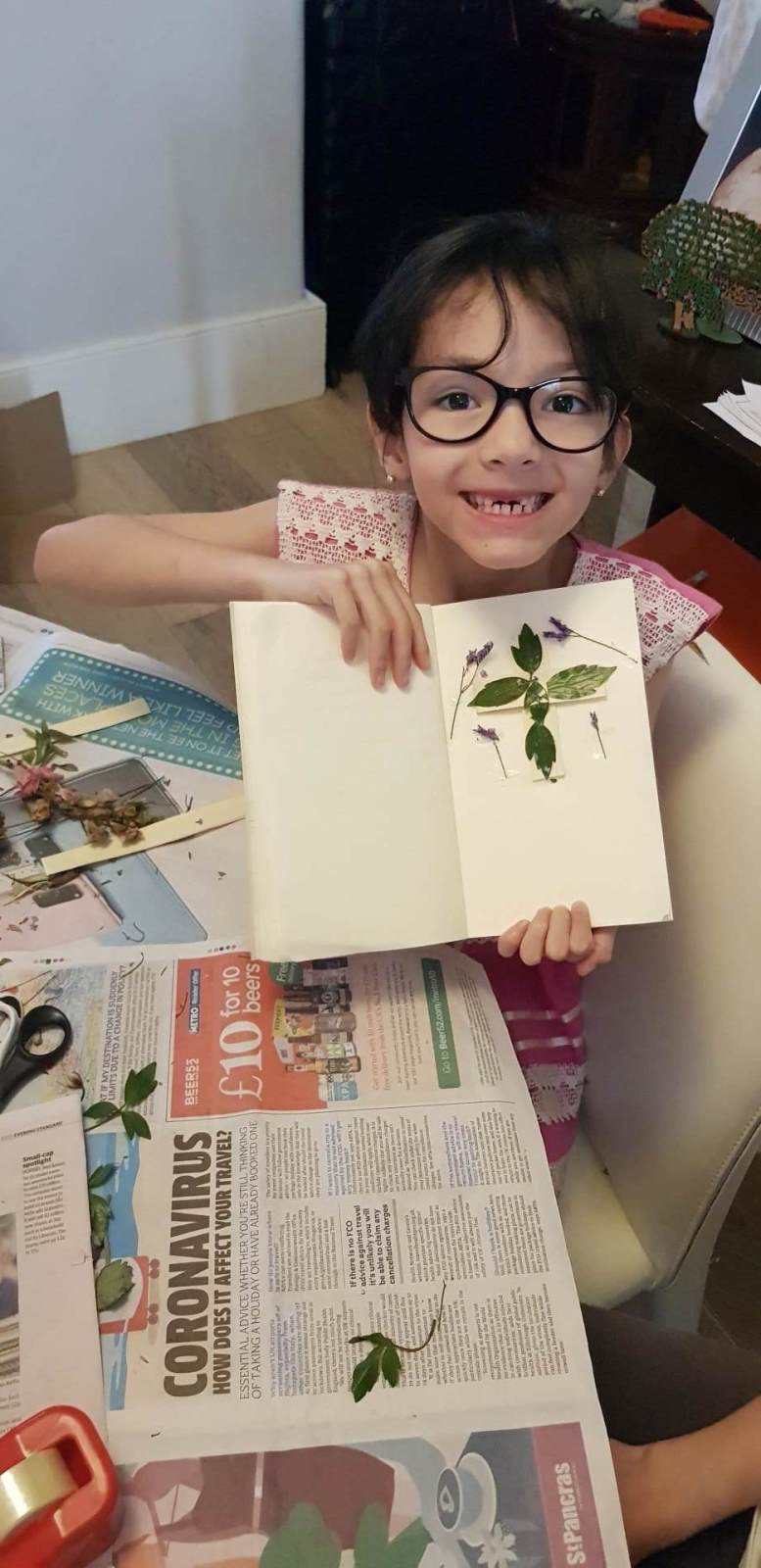 A special well done to pupils in Year 4, who have been producing some great work on Purple Mash recently. Here are a few examples.
Maja has worked hard to produce a very informative brochure showcasing her recent learning about electrical safety.
Continuing the electrical theme is Alice, who has created a lovely poster on electrical components.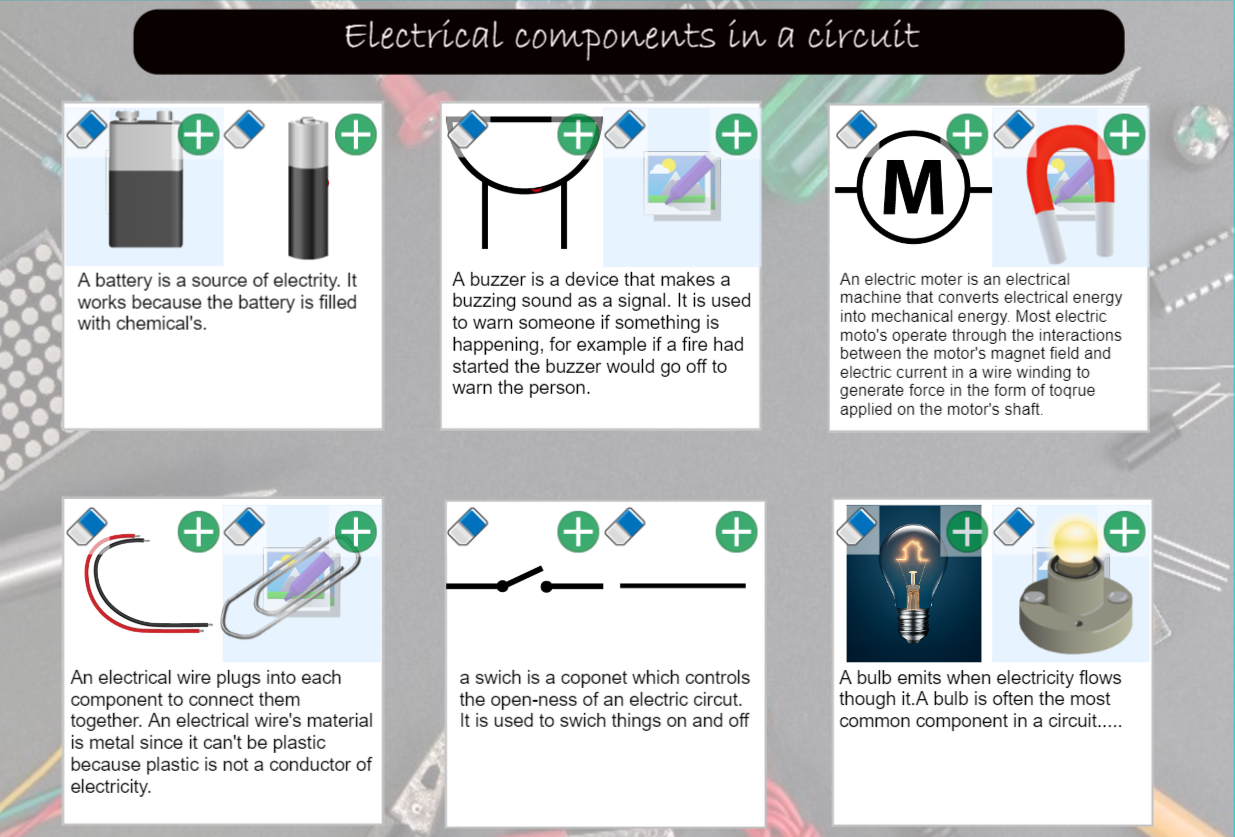 and Alexandra M has been writing as Boudica, persuading people to join her army with a very persuasive and emotive letter.
Number bonds game on Purple Mash!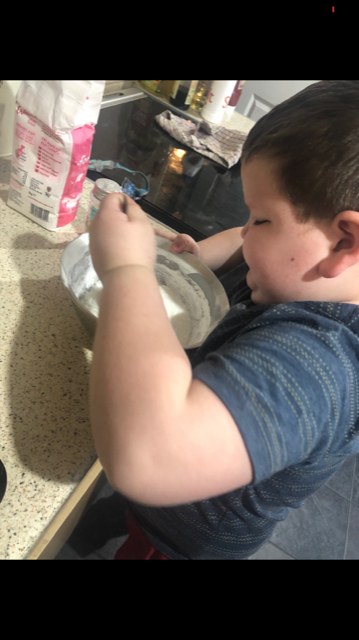 More baking - cakes this time!
Edward & Eleanor's shortbread cookies
I've made a paper mache globe showing all the continents!
Sinead's Work (Class 3)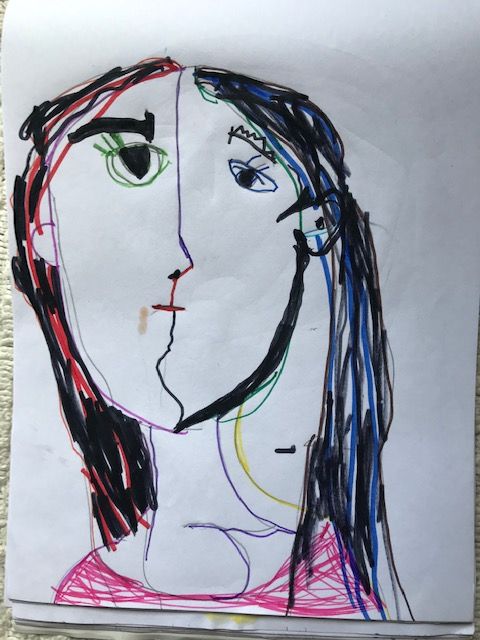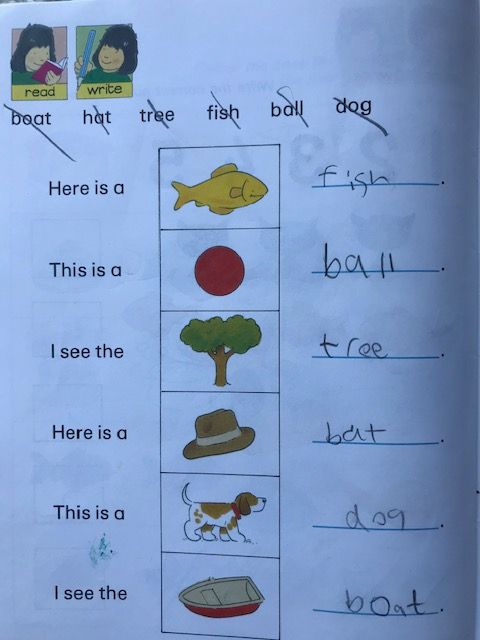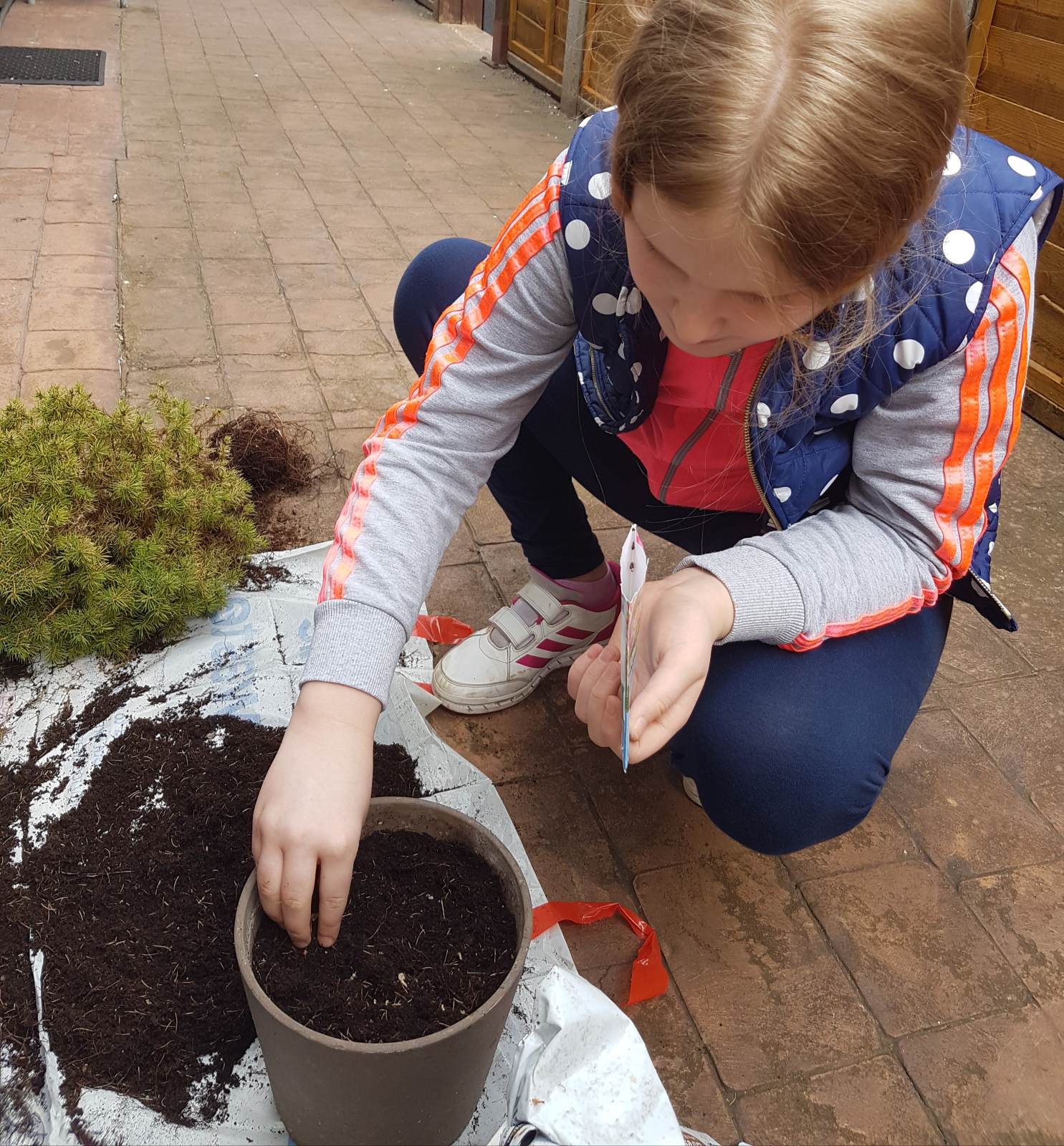 Z & O planting seeds
Eira's Work (Class 5)
When exercising and all your footballs have gone over the fence you improvise ...... but with a precious loo roll? A challenge taking place between J and all his cousins near and far to see who can keep the 'ball' off the ground the longest.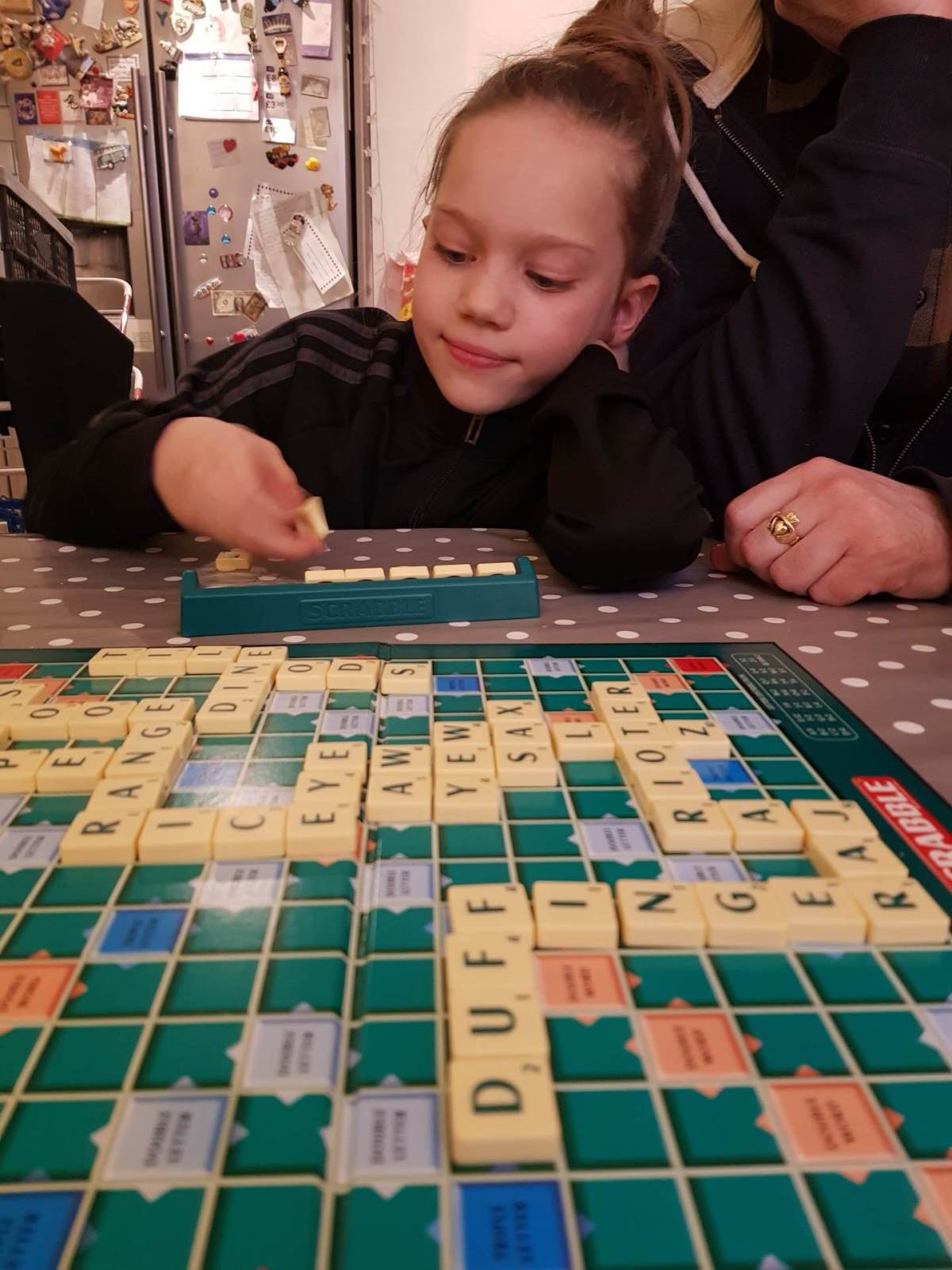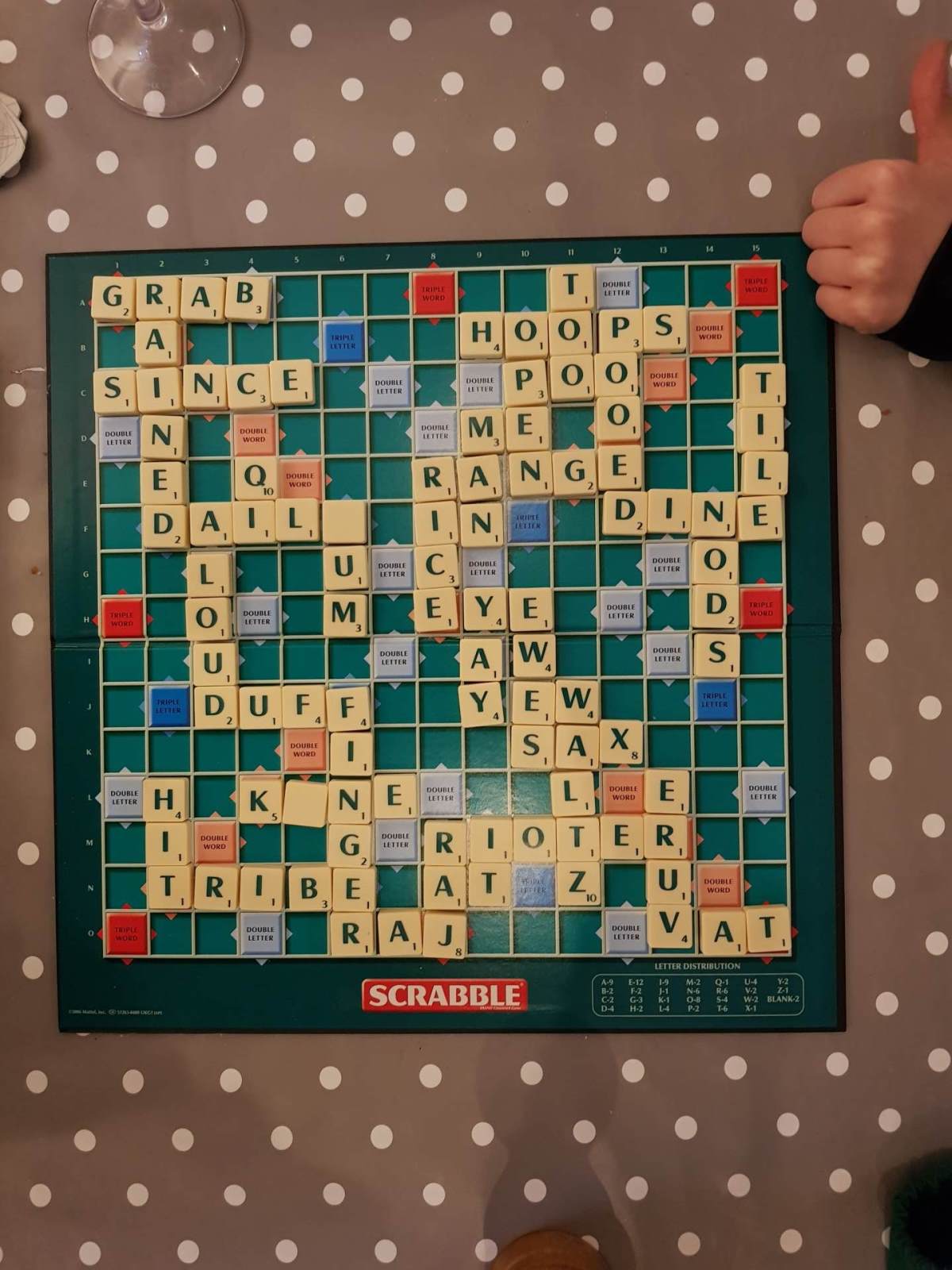 Scrabble anyone?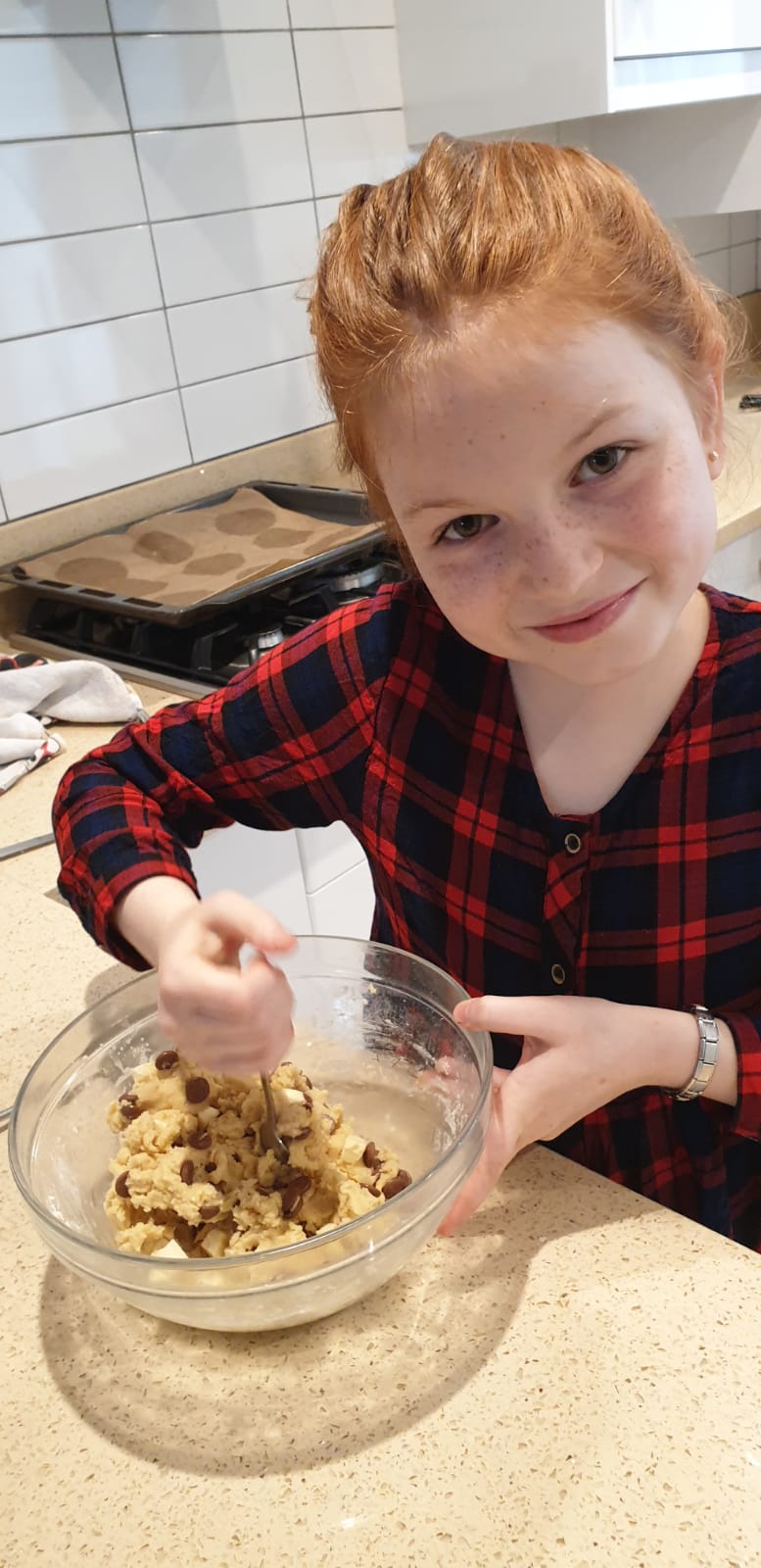 Chocolate chip cookies - Yum!
It's fun having the school almost to yourselves! Finishing a Norman Castle, playing the piano and planting some new plants.
The Beestons were playing a game of guess the value of the items on the 'Antiques Roadshow' and said it wasn't as easy as you would think!
Jessica (Class 6) and Tom (Class 2) sent us a selection of pictures showing their rock painting and a rainbow picture.
Making Chocolate Fudge Brownies but licking the spoon is the best part!
Maths, playing with my cat and roller-skating!
Making a fort!
Gabriella (Class 1) has been making biscuits and drawing.
More baking!
Luka (Class 6) has made bread noting the science that is involved in bread-making and also using his maths.
Observing the chemical reaction when making elephant toothpaste!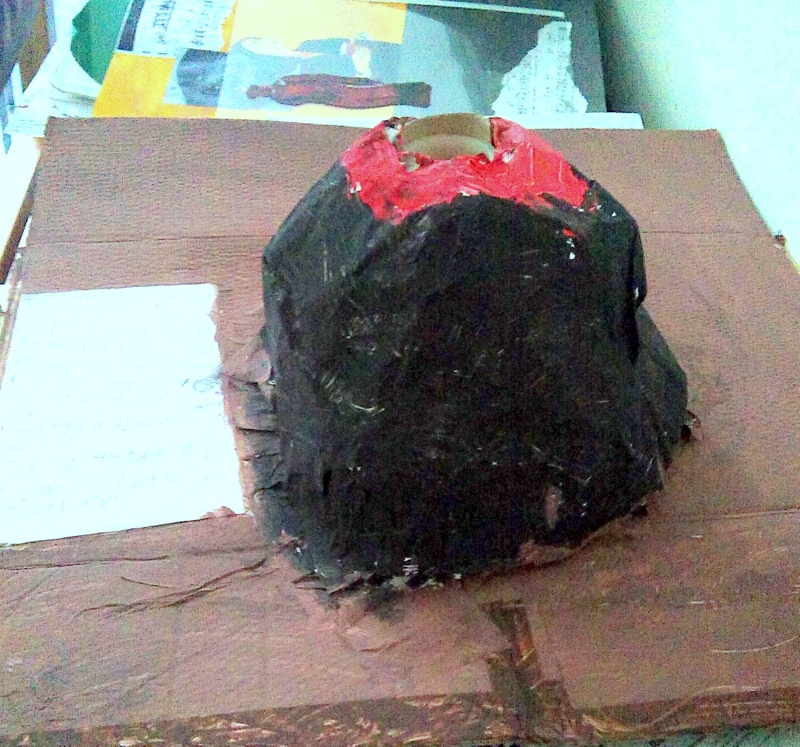 Iris (Class 3) has made a volcano complete with light inside!
I've baked a Banana & Lemon Cake all by myself!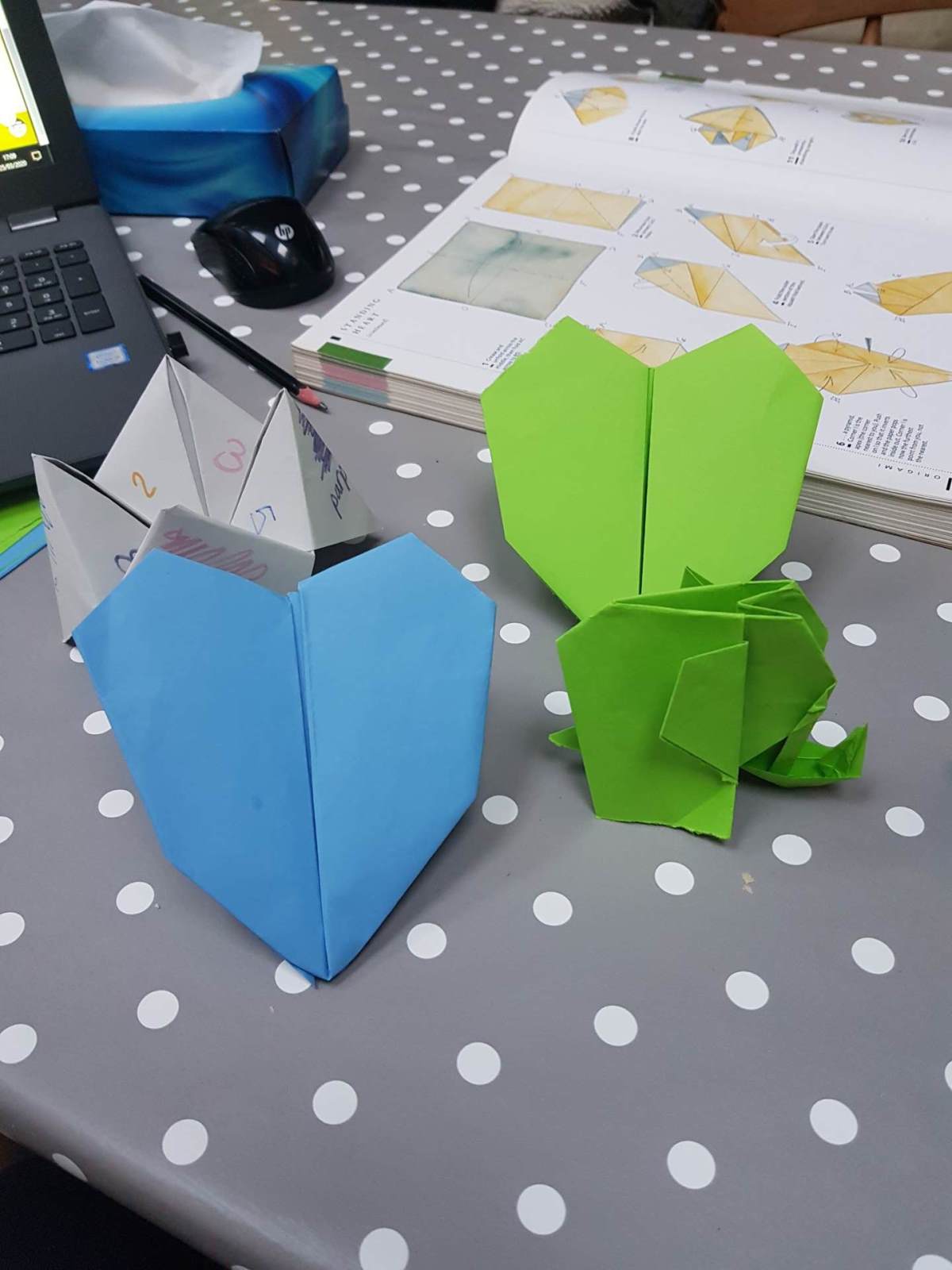 Some Origami by Hannah, Class 4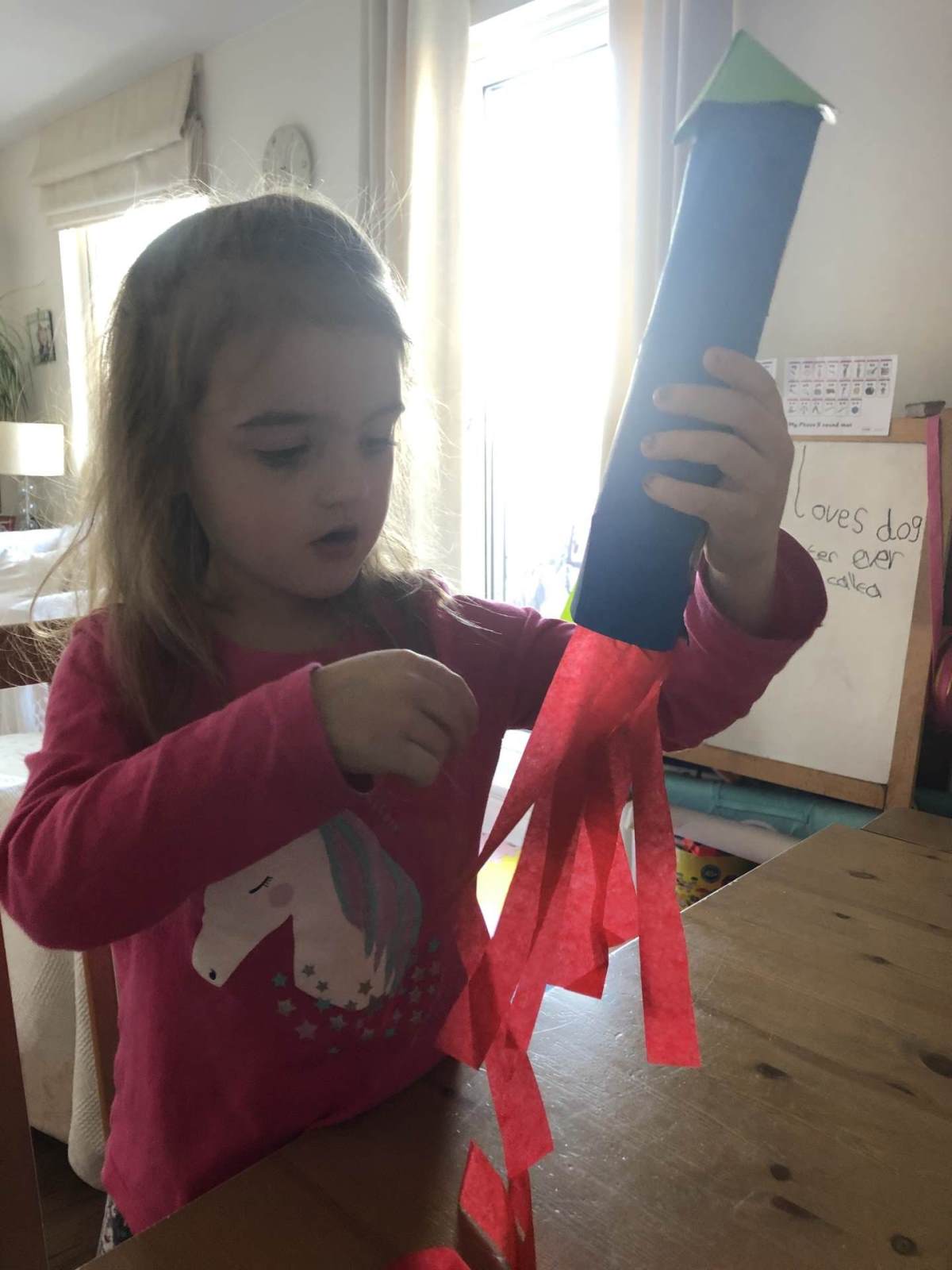 I've been very busy!